Today, it seems everyone uses instant messaging services (e.g. Facebook Messenger, WhatsApp, Telegram, WeChat or TextNow) to stay connected or get in touch with one another.
For instance, TextNow is more convenient, user-friendlier and super efficient when compared to the traditional SMS service.
Whether you are chatting up work colleagues on a group chat or sharing great news with your spouse, TextNow is faster, more accessible and hassle-free.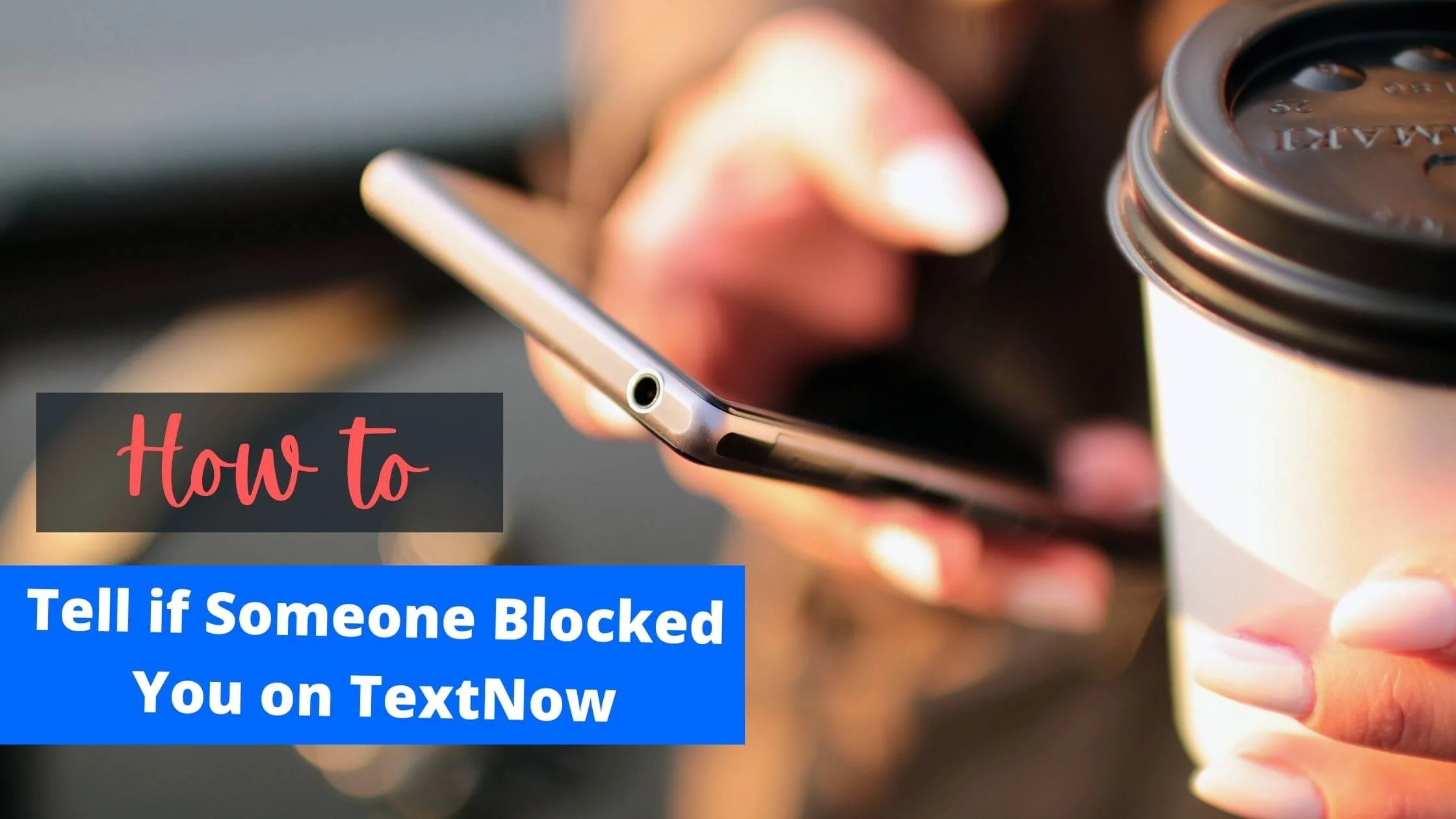 The goal of TextNow is to allow people to stay connected to their loved ones and family. The platform is home to over a million active users, predominantly in the United States, Canada and Australia.  
TextNow assigns its users contact numbers and facilities, allowing for unlimited, free calls and text messages.
You can also get a TextNow Simcard for your smartphone for free calls without the need for an internet connection or access. 
However, if someone does not reply to your text, you'll be forced to think you've been blocked on TextNow.
Typically, users on the platform use the block feature when they want to receive texts from a specific number. 
So how do you know if someone has blocked you on TextNow? Let's show you how.
How do You Know if Your TextNow Number has Been Blocked?
Imagine this scenario: You crossed paths with someone and struck a chord of friendship with him.
What's the next thing you'd do? Get his number so as to stay in touch with one another.
However, if you send a text and try calling the number and it's not reachable. You might be thinking, "Have I been blocked?"
This is not a peculiar situation. In several situations, many people have wondered whether they were blocked on social media or instant messaging platforms.
We will be sharing practical ways to gain insight that will prove if someone has blocked your TextNow number.
In this article, we will be exploring the five best methods you can use to find out if a TextNow user has blocked your number. 
See Also: TextNow Number Lookup | Find Who Owns TextNow Number
Method 1: Send a Message to the Number 
The first step to take is to send a message to that TextNow number.
Unwillingness to communicate usually follows a pattern: In the beginning, you may receive messages infrequently, and then you'll receive terse responses.
And within the passage of time, the person will want to cease communicating with you via texts. 
Sending messages is a good way to ascertain if someone still wants to keep in touch with you, but most times, there's no way of confirming this. 
At times, you may be notified that your messages have been delivered or received by the recipient. Other times, you may be shown a "read" indicator. This explains a lot. 
This is a good hint that can help you find out if your TextNow number has been blocked. 
However, this feature can't be accessed on all Android smartphones. But it can be found in some sophisticated phones.
When sending messages, please note that there are factors that can stop them from being delivered.
For instance, if the phone you are sending a message to has enabled the "Do not disturb" feature, it won't be received on the other end.
This can complicate the process of confirming the status of your messages. 
Thus, we suggest you patiently wait for a few days to check if your messages have been received by the recipient. If it hasn't, it could mean your TextNow number has been blocked. 
Method 2: Check if You Can Send Voicemails
If someone blocked your number, can you still send voicemails? Yes. This is a good way to find out if you have been blocked by someone. 
Whenever you call someone's number, it typically will ring 3 to 5 times.
If the person is not present, hasn't answered the call, or the number is unreachable, you'll receive a voicemail notification. 
While this isn't bad, it is a good sign that you have not been blocked by that person. It also shows that the TextNow number owner is not available to answer your calls. 
So feel free to record your message via voice mail, and it will instantly be delivered to the recipient's number. 
Method 3: You Receive "Strange" Messages When You Call
While there are no generic messages for blocked numbers, and most people would prefer to hide the fact that they have blocked your number, a good way to know that your number is blocked is by receiving an odd message.
For instance, if your TextNow number has been blocked via their network provider, you'll get messages that generally have a similar pattern to this:
"You are unable to call this number."
"The number you are calling cannot receive calls at the moment."
"The number you are calling from is currently offline". 
If you try reaching the number on two or more separate occasions or days and still receive similar messages every time, it's a good sign that your number has been blocked. 
Exceptions:
An exception to this is in the case of international travel, disrupted network coverage due to transmitter or cellular tower damage or a big event where too many people are trying to make phone calls simultaneously.
However, in those situations, you'll likely get a "line busy" message. 
See Also: Received Text From 32665? Steps to Take
Method 4: Number of Rings
If you call a number and you hear one or no ring before the call ends, it's an obvious sign that you have been blocked.
A plausible reason for this is that the person may have enabled a number blocking option on their smartphone.
The evidence is stronger if you repeat the call after a few days and still can't reach the number. 
However, if you hear 3 to 5 rings before your call is redirected to voicemail, it's a good sign that you haven't been blocked. It could be that the person is rejecting your call or is busy. 
Exceptions:
If the person you are trying to reach has enabled Do Not Disturb mode, then your call will be instantly directed to voicemail.
Also, you may experience this situation if the phone is switched off or the battery dies. We suggest you try again after two to three days.
Method 5: Try Calling From a Different Number
An effective and easy way to check if your TextNow number has been blocked is by putting across a call from a different number.
You can either use your business phone or a friend's own.
The crux of the matter is that if you can't successfully contact the person via your TextNow number but you can connect to them via a different phone, it's a sure sign that they have blocked your number. 
Try this:
Figure out a time when the person you are trying to reach is less busy. Try calling them through your TextNow number.
Wait for a response.
Next, call the person via another number immediately. Don't forget to note how long it rings or if your call has been routed to a voicemail. 
Best possible outcome: You'll be able to engage the person in a conversation and clarify why they don't want to keep in touch. 
Worst possible outcome: The person may hang up on you, and you won't find out the reason for their unwillingness to communicate. 
Know if Someone Blocked You on TextNow FAQs
I blocked someone on TextNow. What happens next?
You won't be able to communicate with the person via call or text. You can also block non-TextNow users if you don't want to cease contact with them.
To block a user, send the #Stop command as a text to the number. It will be blocked within a 15-30 minute timeframe.
What's the easiest way to tell if my message was read on TextNow?
Most smartphones have a "read receipt" feature that enables a sender to know when the recipient has accessed the message.
This feature is not yet available on TextNow.
However, you can check if your message was successfully delivered by selecting the message in the chat bubble and finding the purple, green or double tick. 
Is TextNow a safe platform?
Yes. It has gotten over a million installations on the Google Play Store. It has also received rave reviews from many users, indicating excellent service.
The TextNow app also has close to 500,000 positive reviews on the Apple Store. You don't have to worry. 
Is TextNow headquartered in the US?
No. It has its head office in Waterloo, Canada. However, it has operational offices in the United Kingdom and Canada. 
Can police officers trace my TextNow Number?
Yes. They can do this with a permit or warrant. Without this, they can't trace calls or texts from your TextNow number. 
Does TextNow hide your actual number?
TextNow does not adequately protect users' anonymity compared to other apps. Your number is visible to other users when you utilize the platform. 
Is it possible to recover old messages on TextNow?
Absolutely not. Once a message is removed or deleted, it's not possible to retrieve it.
However, you can use the "export feature" on the TextNow app to access a copy of your message before you delete it. 
Conclusion
It can be frustrating when you cannot tell if someone has blocked you on TextNow. Having gone through this guide, you should be able to tell if someone blocked you on TextNow.
Do not forget to share this with your community.
Also Read: