Are you looking for the best digital marketing blogs or blogs about digital marketing to follow?
Then this blog post is for you.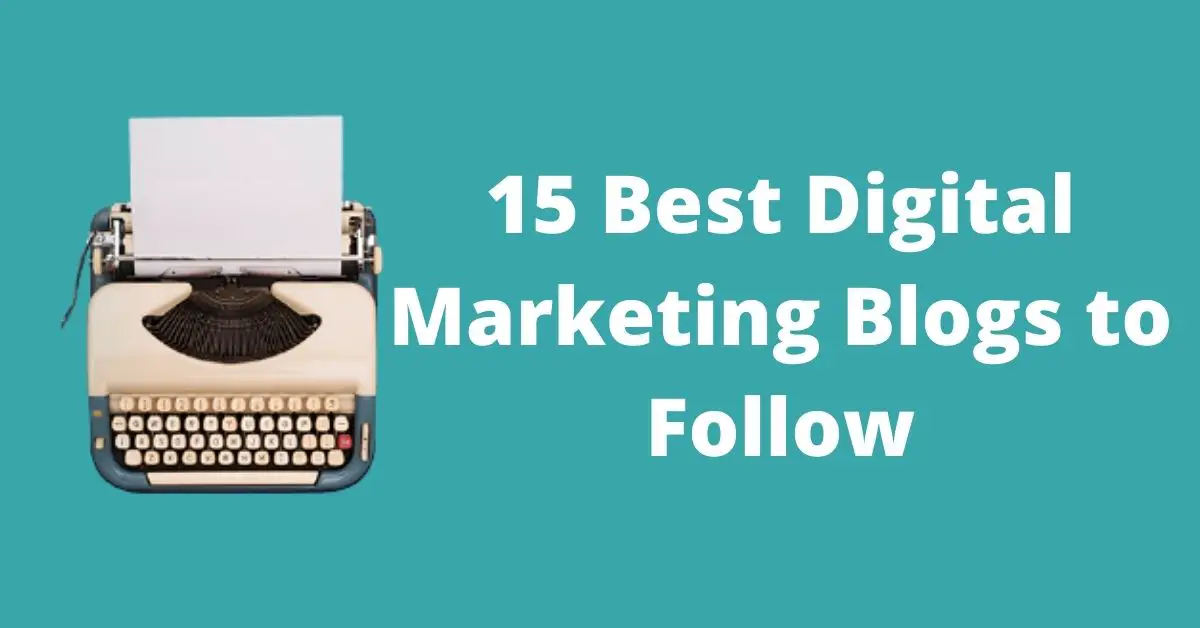 An indispensable aspect of a successful digital marketing campaign is being up to speed with the latest trends, news and best practices across the marketing industry.
The greatest resources that you can leverage are our digital marketing blogs that offer interesting topics ranging from search engine optimization, and content marketing to conversion intelligence and social media marketing.
Perhaps, it requires a conscious and consistent effort to be up to speed with digital marketing strategy.
Not only do you need to be up to date with the latest industry trends, but you need to learn how they work and how to maximize them to boost your brand visibility and ROI.
For instance, when a content format, search engine, a new social media network or app begins to trend, it wouldn't be smart to follow the crowd.
Firstly, you'll need to understand the trend. Does your target audience care about it? And if yes, how you can optimize your strategy to tap into the opportunities?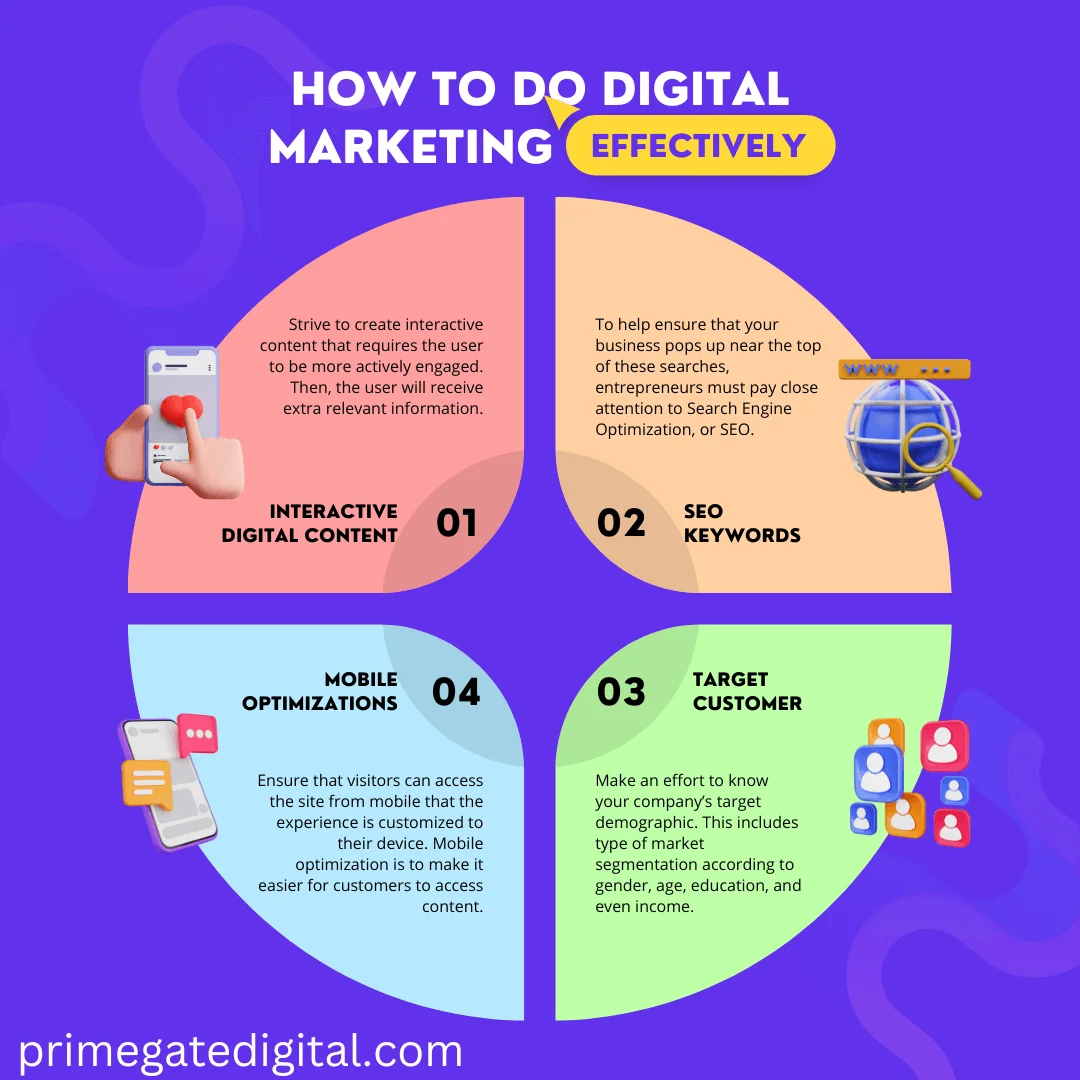 Following the top online marketing blogs not only keeps you informed and connected to digital marketing bloggers but also helps you to understand what their best strategies are and how you can also do better.
So let's take a deeper dive into our best and most successful digital marketing blogs.
See Also: Top 15 Essential Digital Marketing Skills to Acquire
Best Digital Marketing Blogs to Follow
Here are our top 15 best online marketing blogs to follow.
1. Primegate Digital Blog
Best Blog for digital marketing.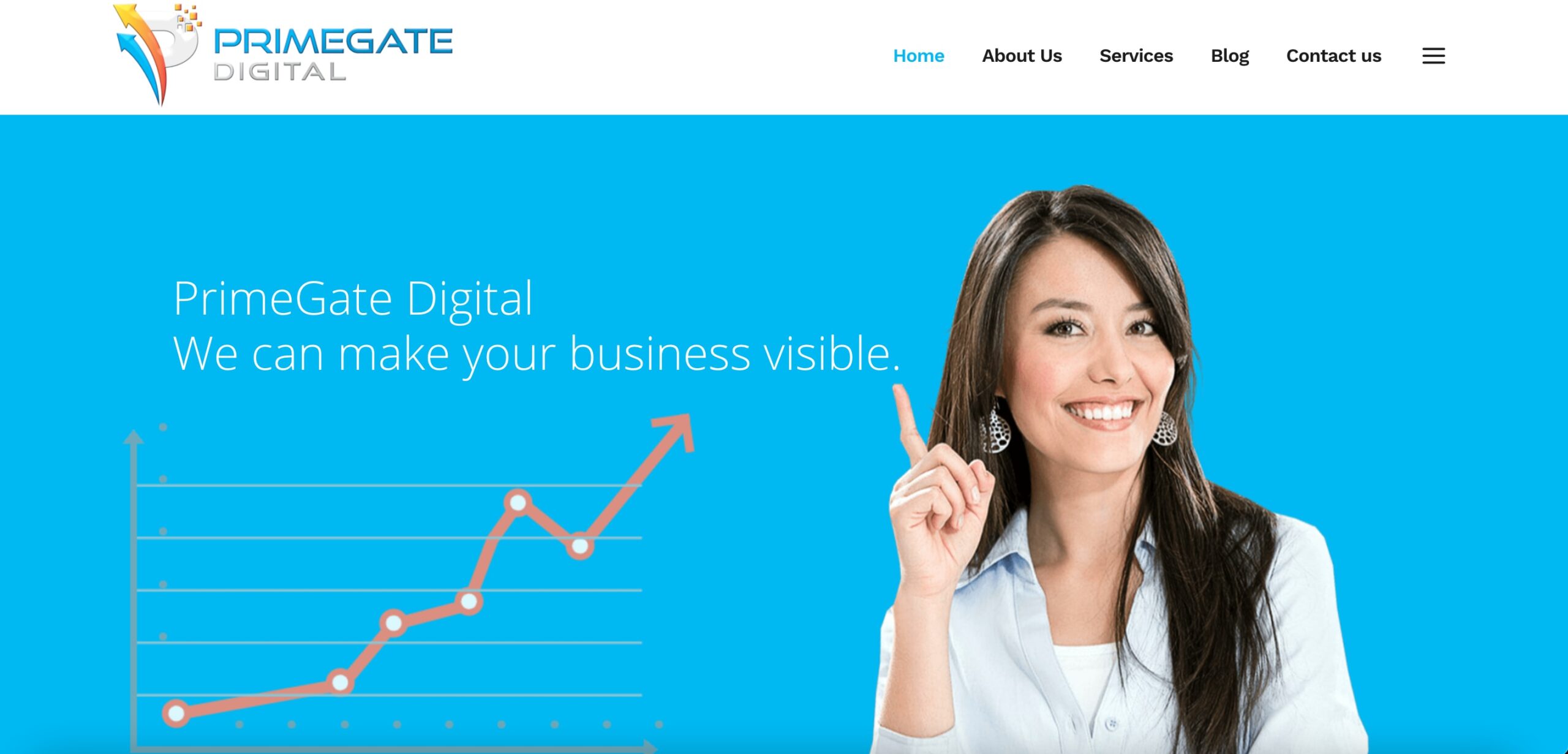 Simply put, if you're not following Primegate Digital on a daily basis, you're missing out on one of the best digital marketing blogs available online.
Sharing amazing insights, best practices, predictions and all other sorts of valuable content, Primegate Digital deserves a spot in your browser bookmarks.
Hence, if you want to find out what trends are happening in ecommerce, B2B marketing, media buying, SEO or social media engagement — just head over to Primegate Digital Blog.
Each blog post comes with an amazing visual representation just to help you understand better.
Recent digital marketing blog post examples:
2. MOZ Blog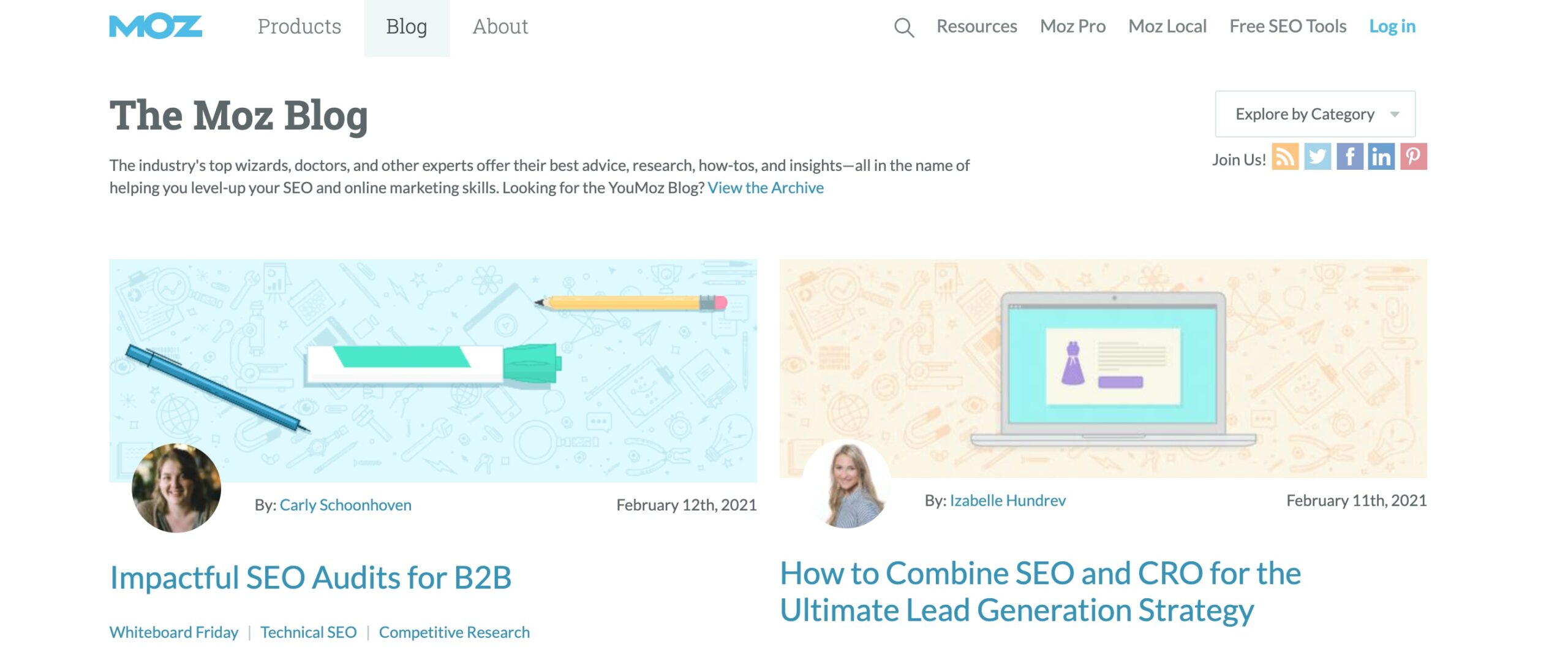 It will be really interesting to know that Moz defines Search Engine Optimization as 'the practice of increasing the quantity and also the quality of traffic to your website through simple organic search results.
Moz actually started as an online community and blog, in the year 2004 by the founders' Rand Fishkin and Gillian Muessig. Initially named SEOmoz.
It was where the world's best SEO experts always gathered to share their innovative ideas and research.

As time went on, the team introduced their SEO guide for beginners, and it suddenly led to the creation of the first
SEO tools
.
SEOmoz changed its name to Moz in 2013 while it was trying to introduce Moz analytics. This change involved features for social media, content and also rankings.
Their new SEO was welcomed, by name of Sarah Bird on the 10th anniversary of Moz.
A few of the primary marketing resources Moz provides include workshops and training, beginners' SEO toolkits, Q&A, and finally, the blog.
The Moz blog is simply one of the best digital marketing blogs for SEO where you can easily find all the expertise you need about online marketing tactics and also strategies.
See Also: 10 Best WhatsApp Marketing Strategies for Businesses
3. HubSpot Blog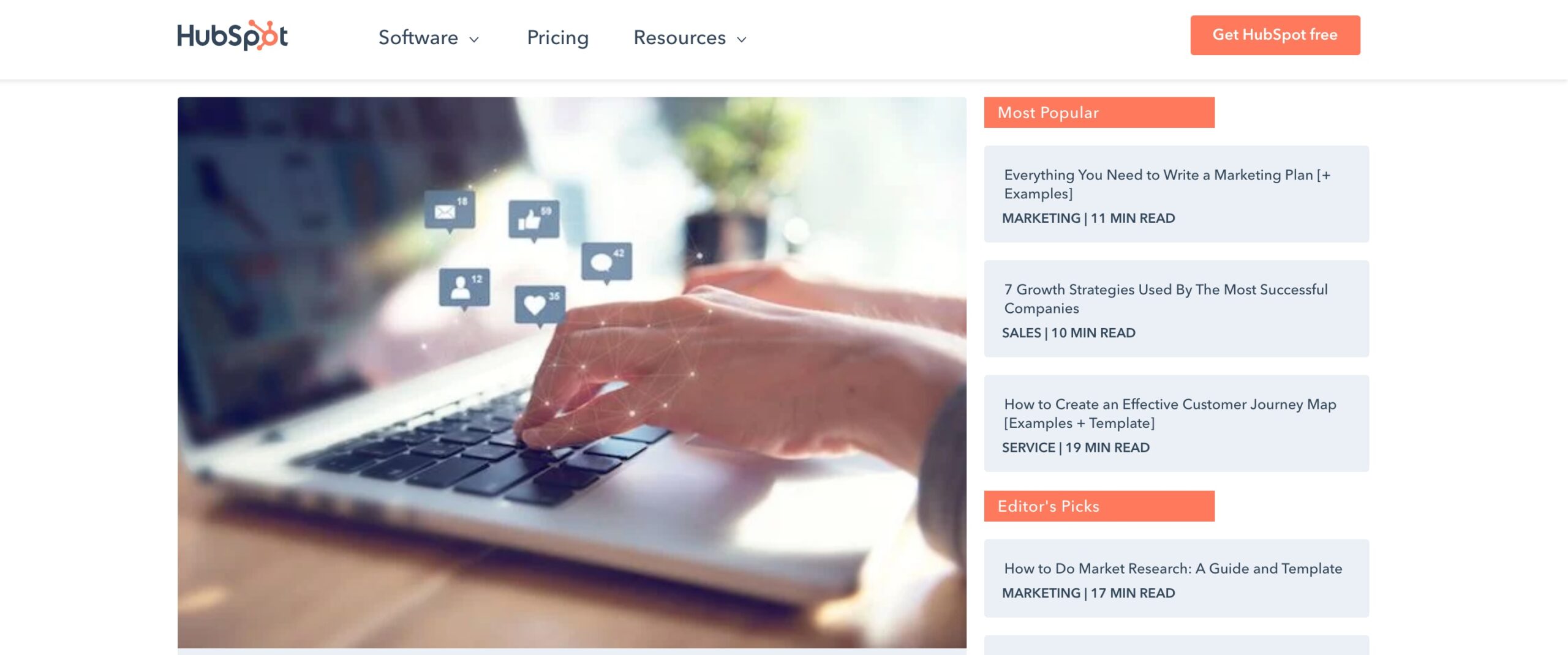 HubSpot is undoubtedly one of the leading digital marketing blogs about marketing, serving entrepreneurs across the globe.
Inbound Marketing also helps customers to attract and as well as engage throughout the buying process.
The difference between this and traditional marketing is that it doesn't aim at manipulating the customers. But delightfully entice them into becoming customers.
It doesn't support commercial advertising, spam emails or even pop-up ads.
HubSpot really assists entrepreneurs with its new marketing insights, ideas and inspirations to help them sell faster and really smarter.

For instance, it focuses on encouraging better communications through new ways like video marketing.
It also provides readers with the effective tools needed to improve productivity, initiate friendly sales processes and effectively connect with customers.
One of the really interesting features of the blog is the division of articles into sections. So you can easily choose from marketing, sales or service.
See Also: 25 Actionable Email Marketing Strategies for Businesses
4. Social Media Examiner Blog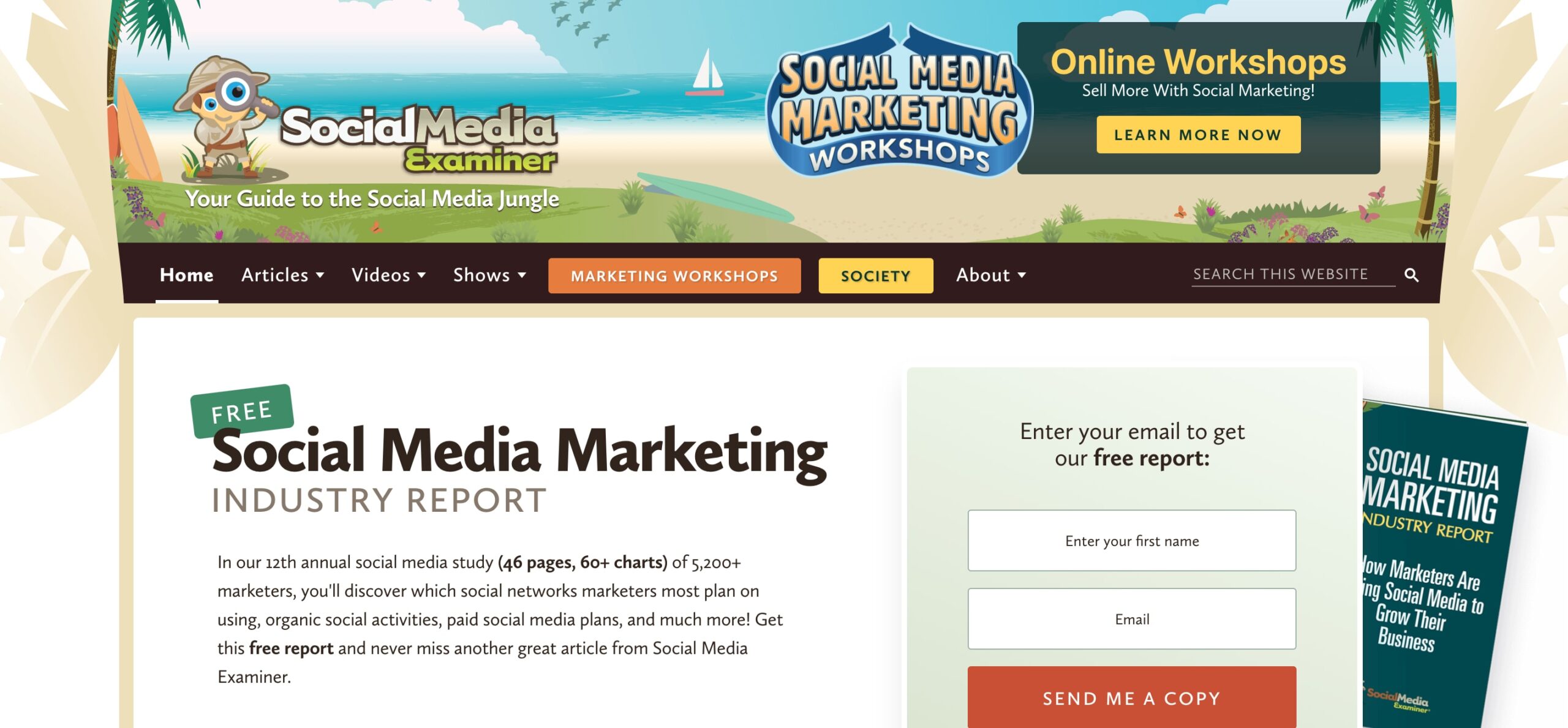 The social media landscape is ever-evolving.
Interestingly, Social Media Examiner has a blog page that shares weekly insights and strategies on the latest trends in Facebook marketing, Google Ads, Content Marketing, Twitter ads and lots more in the world of digital marketing.
If you need to understand the latest algorithm updates, Social Examiner Blog is the silver bullet you need to consciously optimize your marketing strategies or SEO.
The content updates from Social Media Examiner marketing blog are a hugely helpful resource to up your social media marketing game.
See Also: Top 10 Successful Digital Marketing Strategies For a Law Firm
5. Neil Patel Blog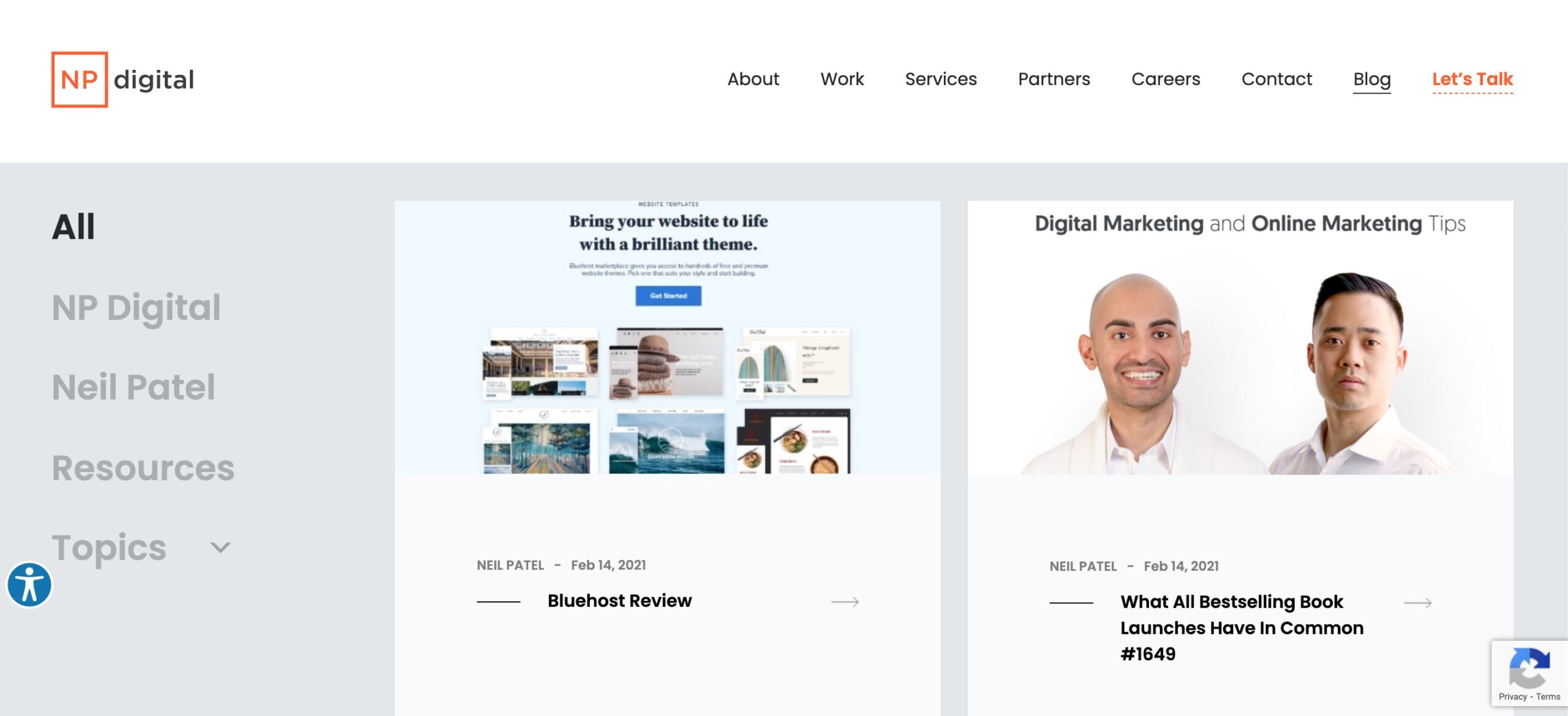 Who really doesn't want to create authentic traffic to their business blog? Just tell me, who doesn't?
There are millions of websites on the internet, so you must be asking yourself "how do I make my blog rank on the top page of a search engine?"
Neil Patel, a New York Times bestselling author and founder of Neil Patel Digital, has a blog to intentionally help digital marketers at all levels of expertise.
It is one of the best web marketing blogs for comprehensive guides and SEO tips and tricks.
This blog really and easily reveals how to excel at boosting traffic even In competitive industries and help in companies growth.
It also uncovers some brilliant tactics to drive a large amount of valuable traffic to the websites involved.
See Also: 20 Best Freelance Websites to Find Work and Make Money Online
6. Content Marketing Institute Blog
Content Marketing Institute is a publishing powerhouse, leveraging on vast contributor network of the content marketing profession and similar fields to deliver great content.
It is one of the best content marketing blogs in the marketing industry today.
Because they examine the content marketing profession fully, they diversify and incorporate variety to their content that the audiences are happy to consume.
If you are looking at improving your content marketing skill, then, this is the best digital marketing blog to follow.
7. Search Engine Land

This digital marketing blog publishes the latest news on search engines, search engine marketing (SEM) and search engine optimization (SEO).
Search Engine Land also features breaking news, data projection forecasts and trending topics related to local search, Google, retail and Bing.
They offer blog posts that can you maximize search traffic as a marketer.
These posts share valuable insights that allow digital marketing professionals to make the right decisions that improve their online marketing efforts.
See Also: 10 Hot High Paying Affiliate Marketing Programs to Join and Start Making Money
8. Marketing Land

This blog publishes daily posts ranging from marketing news and management insights – including breaking stories, tips and tricks, and industry trends of diverse aspects of the digital marketing industry.
As a digital marketing professional, Marketing Land will offer you valuable insights into the digital marketing industry, which will help you outsmart the competition.
Also, you will have access to practical tips, tactics and strategies that you can use in your digital marketing campaigns.
The blog post topics are up-to-date and informative, ranging from new features on social media platforms to updates in content management systems as well as the latest best practices in email marketing.
9. Social Media Today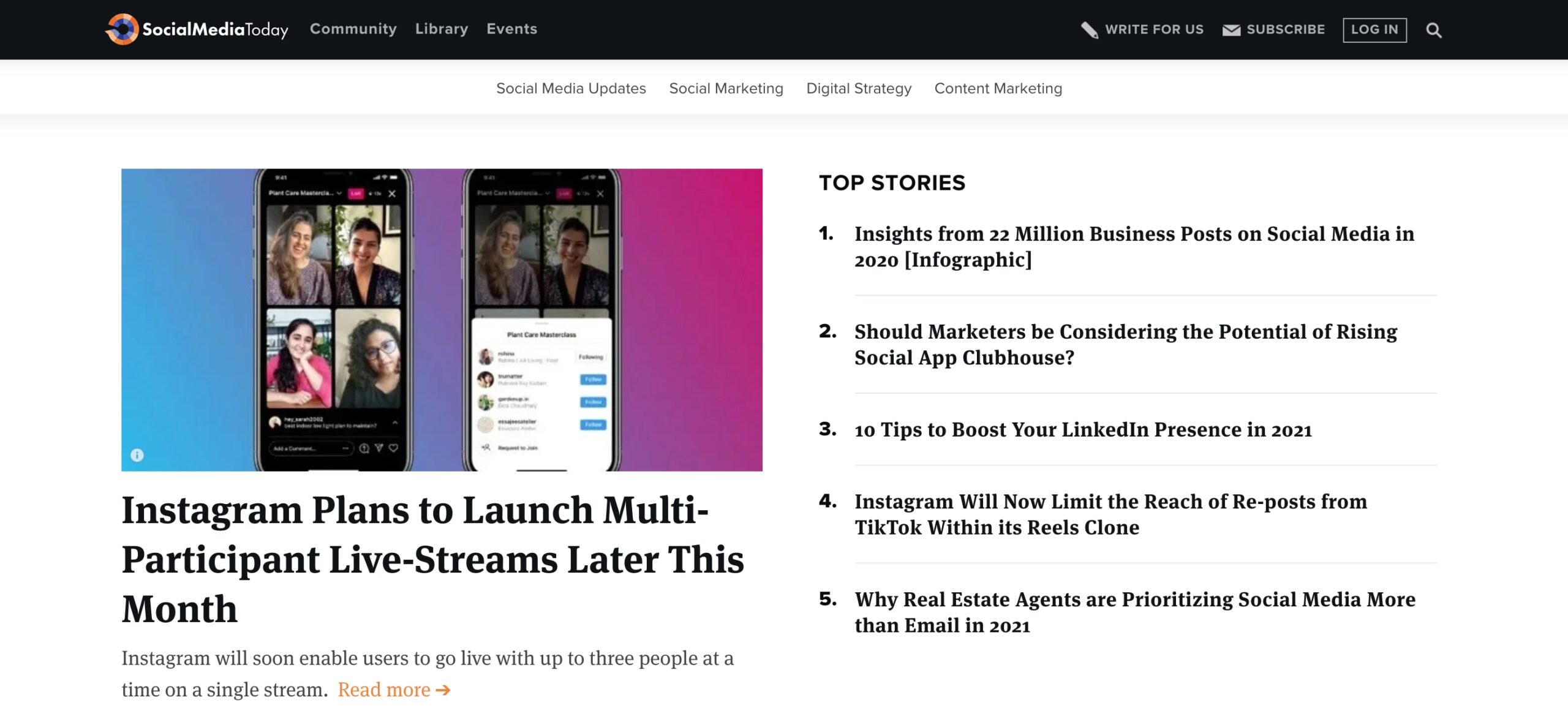 This was founded by Robin Frey Carey in 2007. Social Media today is one of the leading social media marketing blogs operated by industry Dive.
Social Media Today talks about the current updates of the social media world, with so many articles on how to apply social media strategies to current trends.
The posts on this blog are easy to understand and also relevant, which makes it the best consulting blog for every company owner.
So many famous blogs and brands use Social Media today for guidance and it is also rated first along with the most recommended blogs.
See Also: How To Pay For Facebook Ads In Nigeria: A Step-by-Step Guide
10. CoSchedule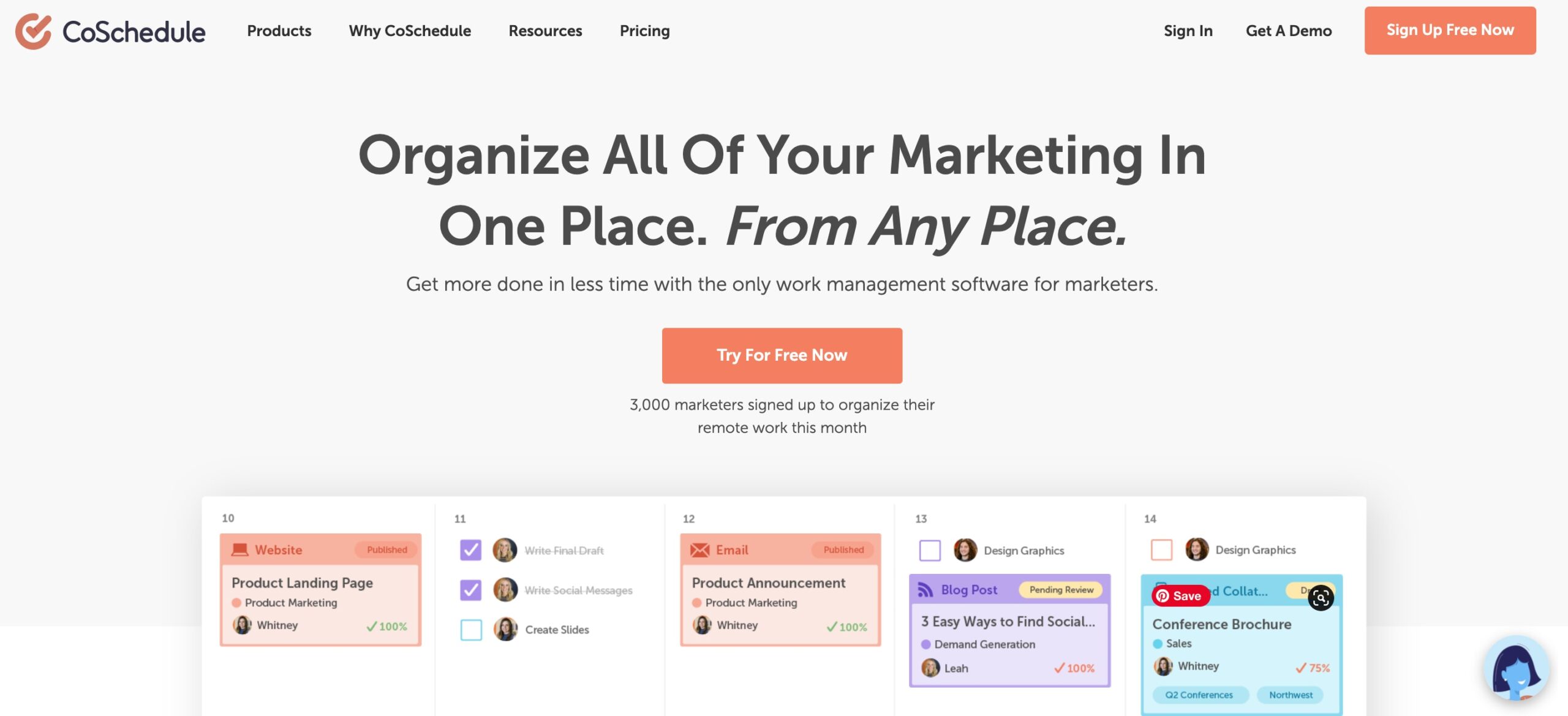 We all know that it is not always simple to organise and manage the marketing process while maintaining efficiency at the same time.
Time management is the key to success, and CoShedule's blog helps with project management plans and strategies to organize marketing workflow.
The posts on this blog are actually accompanied by free templates to help you understand proper product marketing strategies.
It also helps you with a free marketing calendar template and a comprehensive social strategy ebook bundle.
The marketing calendar is the best tool to keep all stakeholders aware of the tasks, deadlines and updates they need.
Lastly, it provides an efficient way to delegate tasks to members to help increase the team's productivity.
11. Social Triggers

Derek Halprern is a founder of Social Triggers and also an expert entrepreneur. His blog is just all about marketing businesses and suggestions for tackling the competitive market.
The articles you'll find here are full of tips for using data-driven content marketing to get more traffic, sell more products and of course attract a broad audience.
Social Triggers teach how to build an audience and attract a targeted audience. They tackle how to advertise your products and also write in a captivating way to increase sales.
Social Triggers has a growing community, simply subscribe as soon as you can to be part of it.
See Also: How To Target Wealthy Individuals With Facebook Ads Easily
12. Buffer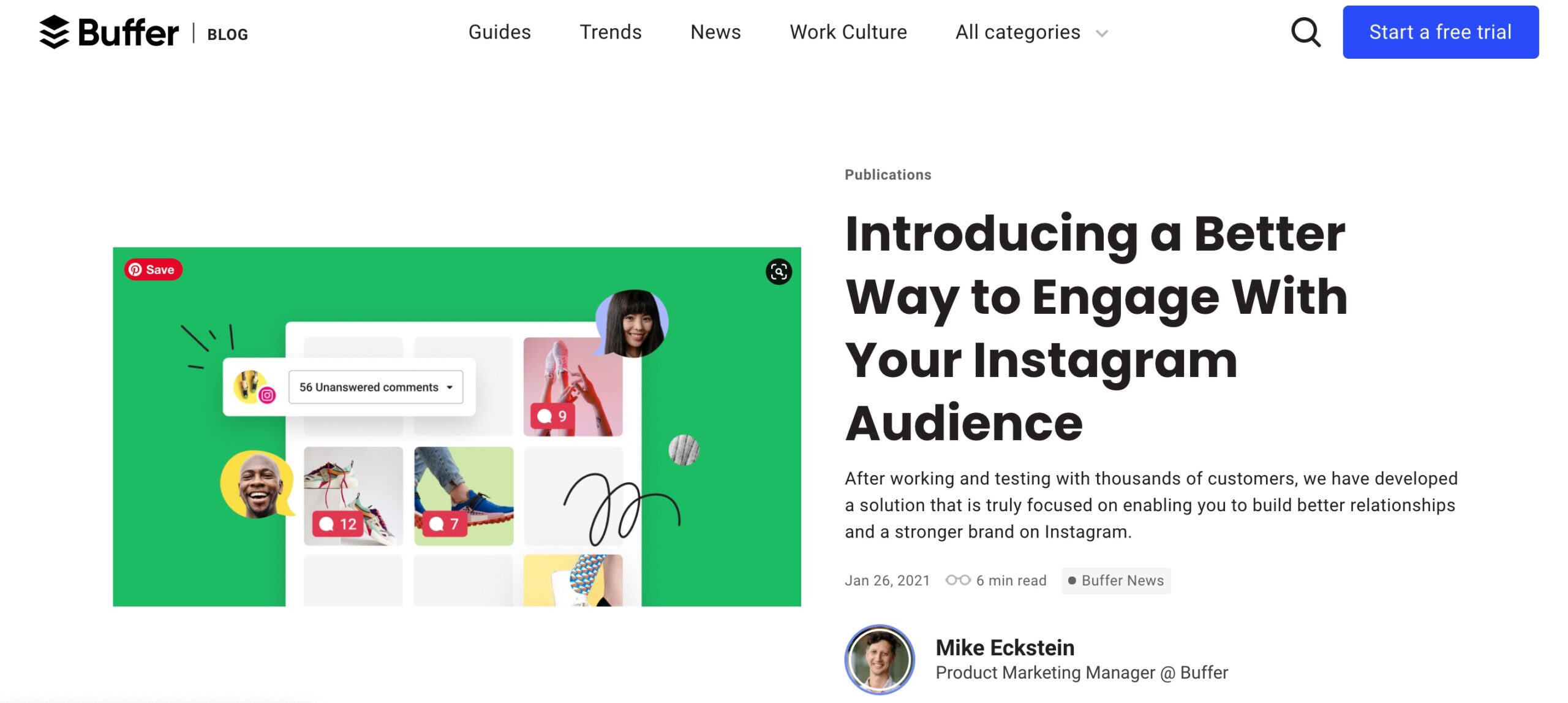 Every website undoubtedly needs quality content free of errors and fallacies. If the editorial material lacks accuracy, then it'll definitely struggle to even impress customers.
Professional marketers will help make sure that the online content is comprehensible and up to the mark.
Buffer blog makes it quite easier to understand the skills and traits a social Manager needs to learn to produce excellent content.
13. HelpScout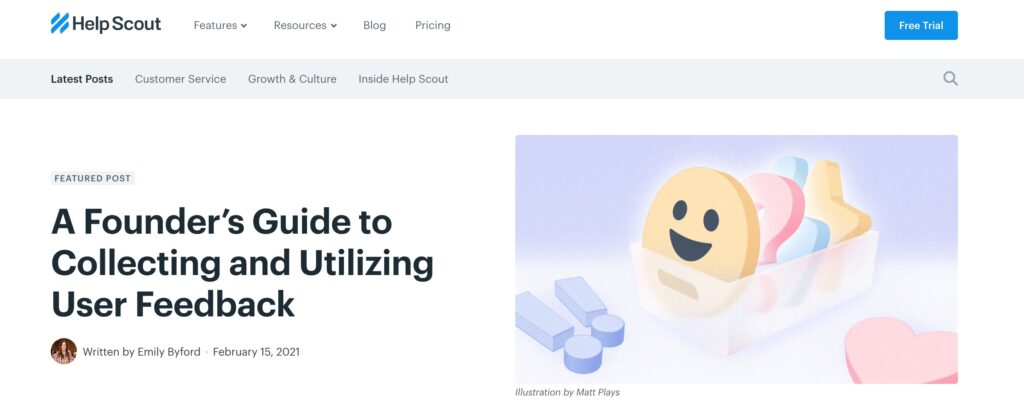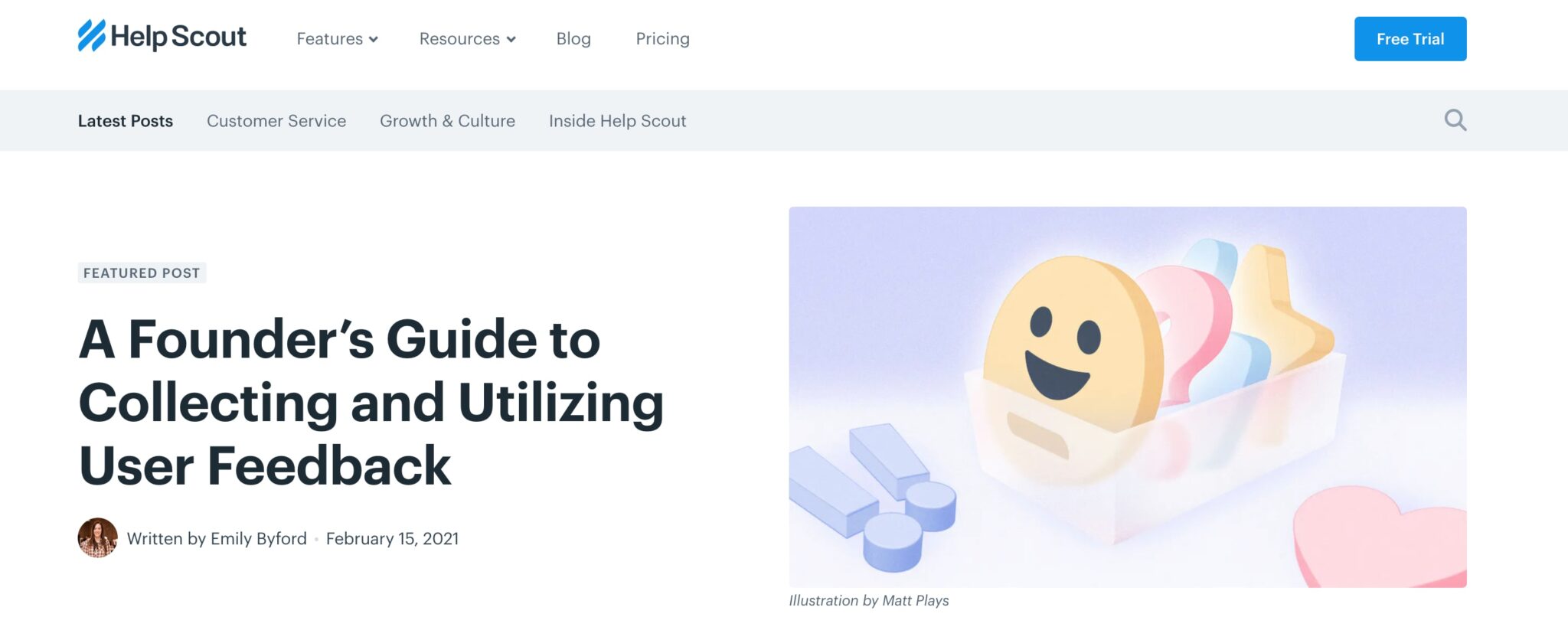 Your customer's needs and expectations are an integral part of your business. You shouldn't ignore their needs.
As you already know, your customers and clients are the driving force for business, so there is always a need to focus your services according to the most popular demands of the people interested in your services.
How do you get to know their mindsets and the kind of products they want? This is when HelpScouth blog comes in.
It talks about what is best for the client and also teaches them how to interact with them and also engage them to ensure more sales
Posts on the blogs are actually about promoting a better and stronger relationship with the customers by getting rid of traditional methods of Marketing with digital methods.
It also suggests marketing strategies to help companies deliver excellent services according to the customer's demands.
See Also: 10 Successful Digital Marketing Tips for Insurance Companies
14. Digital Deepak Blog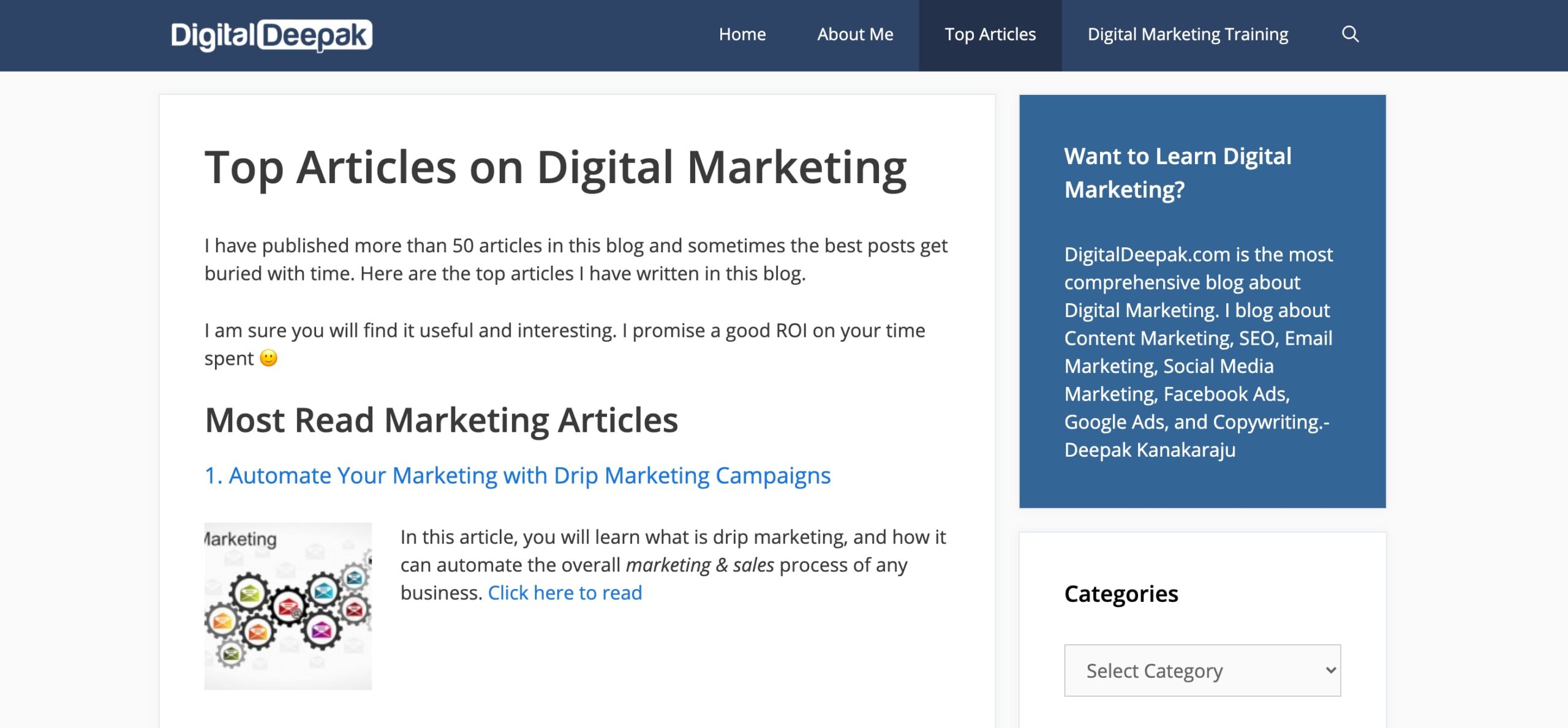 Digital Deepak is one of the most extensive digital marketing blogs for all levels of digital marketers. 
The blog topic comprises Content Marketing, Social Media Marketing, SEO, Facebook Ads, Email Marketing, Google Ads, and Copywriting.
If you want to be an online marketing expert, or learn about online marketing you should definitely check this blog out. It is best for learning exclusive tips related to digital marketing.
15. MarketingProfs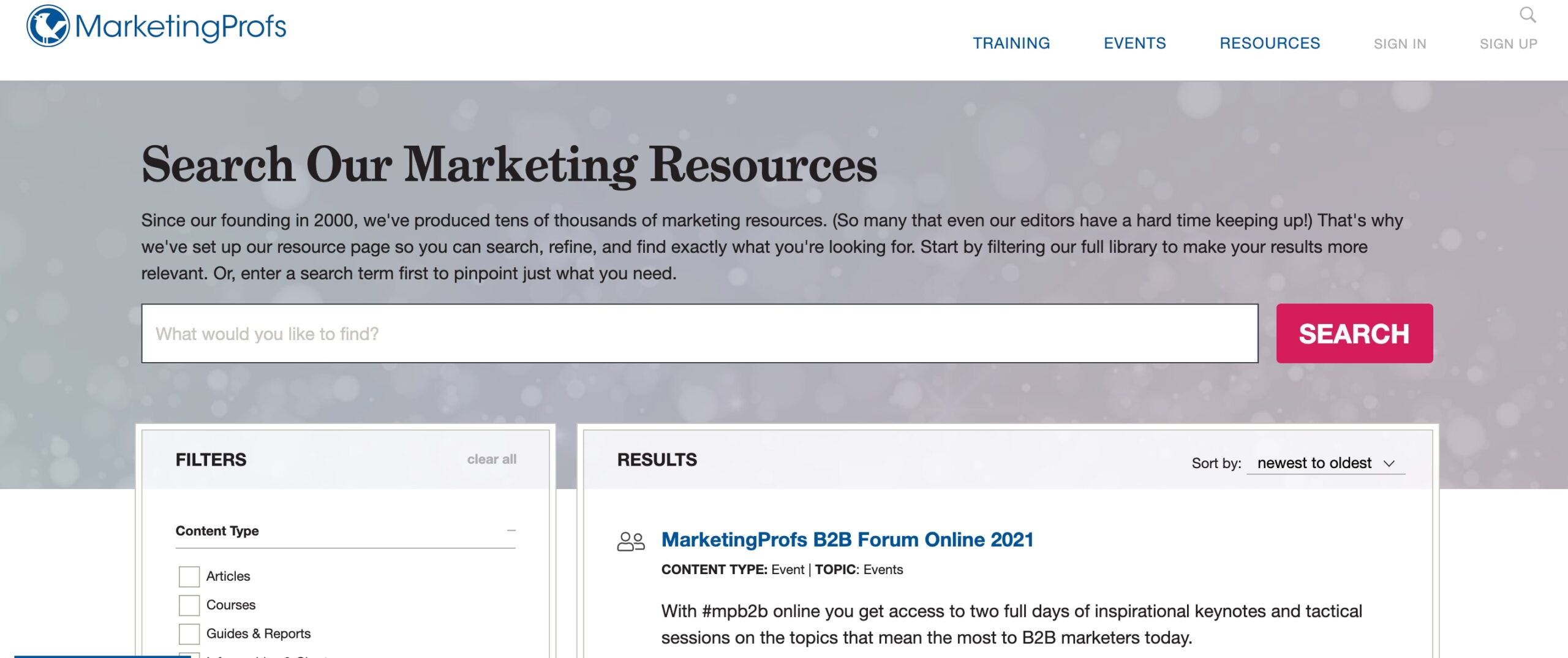 MarketingProfs is a one-stop resource for bloggers and marketers that simply want the learn the best marketing advice from industry experts.
They have lots of marketing resources, including articles, videos, podcasts, online seminars etc.
It's perfect for training programs, online events, conferences and supplementary free resources.
It's really loved for Campaign marketing. Marketing Profs believe that learning changes lives, this is why they provide marketing training to entrepreneurs through their blog.
This blog also presents online education and online events as well.
See Also: 12 Facebook Ads Mistakes to Avoid as aN Advertiser
FAQs on Best Digital Marketing Blogs to Follow
Is Digital Marketing Worth it?
Digital marketing is the best career choice anytime any day. There is huge growth in how digital marketing budgets have grown over the past decades. Also, this is expected to take the lion's share of marketing budgets. This, in turn, creates immense job opportunities for online marketers.
Yes! Effective blogging is an indispensable part of any successful digital marketing strategy. It is a smart tactic to drive quality traffic to your website, acquire new leads for your brand, help you nurture those leads to sales conversion, as well as offer you enhanced insight into your customer base.
Conclusion
Digital marketing blogs are one of the best ways to acquire actionable insights and to learn consistently.  There's no justification for not keeping up with the trend – especially now that you have all the resources to begin.
The above-listed online marketing blogs are a list of blogs that are very active. They are not only run by marketing experts and digital marketing bloggers but they are been updated frequently.
So if you are in the process of starting a new business or you have issues trying to promote it, then subscribe to any of the blogs above for free and then use this knowledge you'll find to grow.