Whether you own an online store or a regular brick-and-mortar shop, digital marketing is now a must-have for your business.
With the rising popularity of technological innovations, social networking sites, and online-based messaging, it is necessary nowadays for business owners to invest in effective digital marketing.
There are diverse techniques to advertise your products and services and stay ahead of competitors.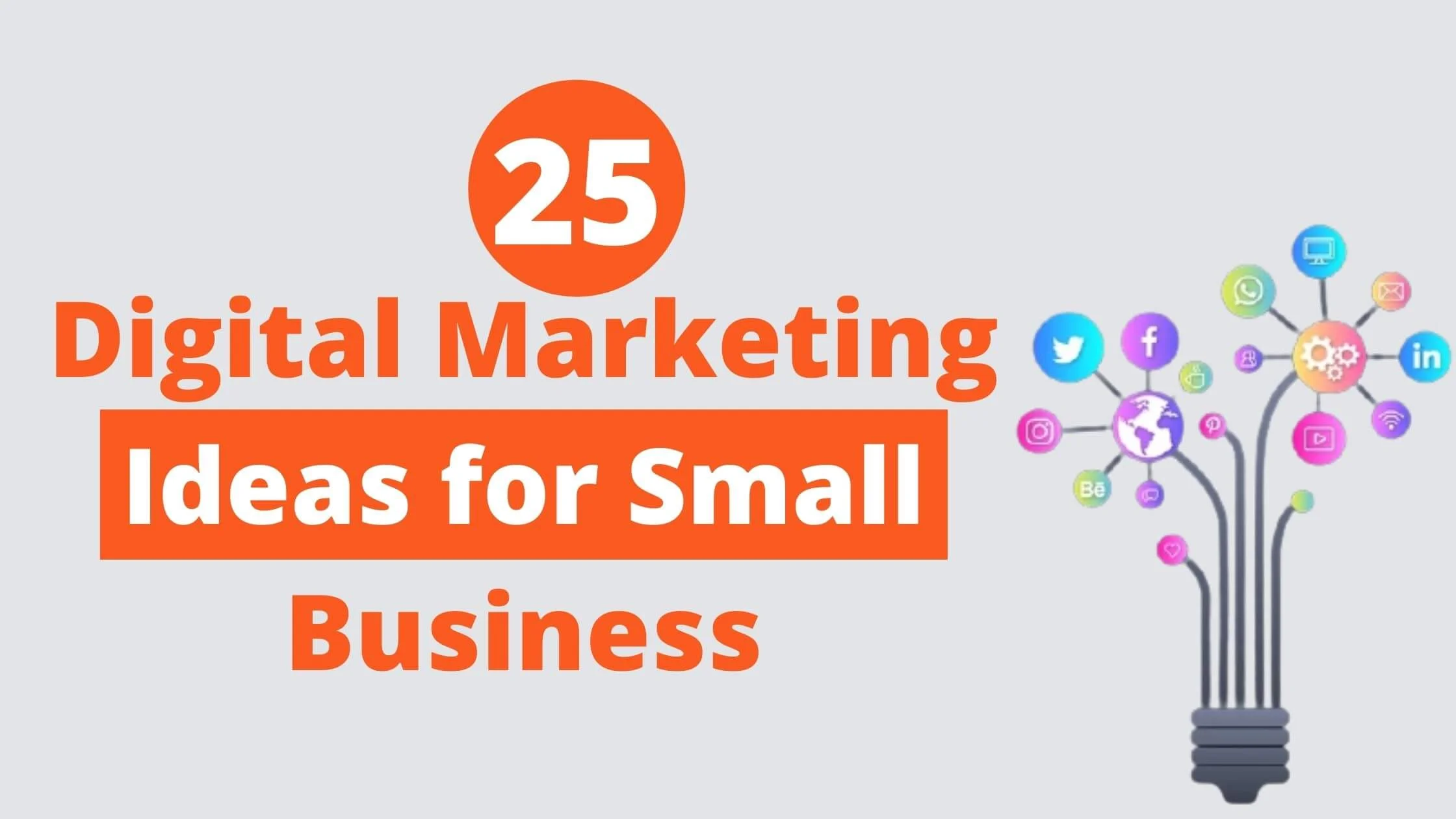 If you're running a small business, you may be unsure how to start digital marketing. Fortunately, we're here to assist you.
With the help of industry experts, we've compiled a list of the top innovative digital marketing and lucrative business ideas for small businesses to help you get started as a business owner. 
See Also: How to Increase Sales Volume With Digital Marketing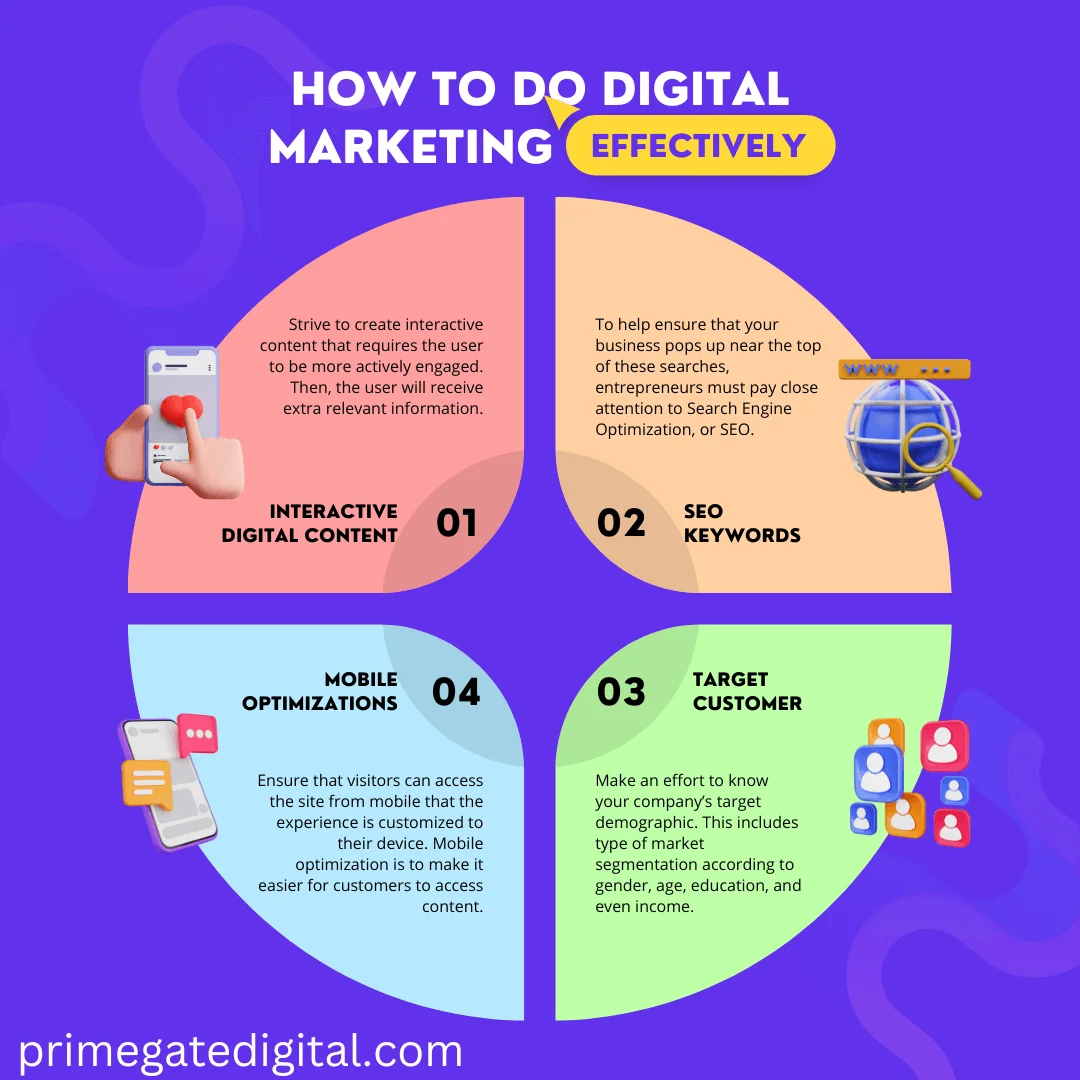 Top 25 Digital Marketing Ideas for Small Business
Below are the top creative digital marketing ideas for small businesses:
1. Engage in Local Search Engine Marketing
For small businesses, there is no substitute for a well-executed local search marketing plan.
Local search marketing entails establishing and improving your business's web profiles so that it appears in local search results that are relevant to you.
Local search is complex, but when done correctly, it places your company on the map so that local customers can discover you whenever they need your services or products.
2. Make Your Website User-Friendly & SEO friendly
Do you have a business website that looks like it was designed in 1999?
It's time to put things right. We live in an attention economy where customers are impatient and expect immediate results.
So, if your website is unappealing, loads sluggishly, or is difficult to navigate, we'll leave and go to your competitors.
Because customers will quit your website if it takes too long to load, ensure it loads fast. Also, make sure your website is simple to use.
Don't forget to provide direct call-to-action that explains what the customer should do next. For example, under the banner of your homepage, you may include a button that says "Call Today," or "Need Help."
The importance of mobile optimisation cannot be overstated. If your website isn't mobile-friendly, it will affect your Google ranking, so work towards achieving it!
See Also: Best 15 Free SEO Tools to Boost Your Website Ranking
3. Build Quality Links to Your Website
Link building is an efficient technique to prove to search engines such as Google that your website is relevant.
With a proper link-building strategy, Google will understand that your business website is popular and relevant, allowing you to appear in local searches. So, ensure you get high-quality links and avoid low-quality spam links at all costs.
Consider writing a guest article for a local blog in exchange for a link to your website.
Keep an eye out for local media outlets that may be interested in running a story about your upcoming promo or event. They may post an article with a link to your website.
See Also: 15 Best Backlink Tools to Boost SEO Strategy
4. Use Keywords to Your Advantage
Keyword research is an important aspect of every successful digital marketing strategy. You can do so much with your business's keywords!
It's also an excellent strategy to figure out what terms customers use to look for your business and its services and products.
Make use of the "People also search for" or "Search recommendations" box at the bottom of the page to uncover useful keywords that are relevant to your business's products and/or services.
Also, keyword tools such as Google Trends, Google AdWords Keyword Planner and GrowthBar can help you find opportunity keywords.
Incorporate those keywords into your web pages (remember to be as natural as possible so that they make logical sense throughout your content) or blog articles.
5. Keep an Eye on Your Online Reputation
The biggest companies aren't the only ones who need to maintain their reputations. Small businesses must also be aware of what their customers think about them.
Create a Google alert for your business so you'll be notified when new articles about your business are published.
Don't underestimate social media monitoring solutions. We recommend Awario, a tool that alerts businesses whenever someone publicly posts about them or comments on their statuses.
If you're aware of the buzz, you can join the dialogue, address any issues that occur, and keep your brand's reputation as spotless as possible.
You should also be mindful of the common complaints customers have about other businesses so that you can safeguard your business against negative publicity.
See Also: 9 Creative Ways to Increase Brand Awareness
6. Make Use of Online Networking Platforms to Expand Your Network
LinkedIn is an excellent platform for networking with local customers and other small entrepreneurs. By creating a business profile page, you will connect with others in your industry and raise awareness of your business.
Using LinkedIn's "Friends of Friends" feature, you can find potential new connections. A good way to increase your local visibility is by joining groups on LinkedIn and Facebook.
7. Use Eventbrite and Facebook Events to Increase the Number of Attendees
Are you planning a big event or promo? To reach a larger audience, create a Facebook or Eventbrite event.
You can share your Facebook event with your followers once you've created it. It will also appear on the events page for local customers searching for events in your vicinity.
The same applies to Eventbrite. This will increase your brand recognition and entice new customers to learn more about and partake in your event.
See Also: 15 Effective LinkedIn Marketing Strategies to Grow Your Business
8. Improve Your Social Media Strategy
With all the numerous benefits of social media, you can no longer ignore it.
Everyone has a social media account. Thus, your small business must have a presence on Facebook to engage with customers and post business details and hours.
You should also update your page on a regular basis (at least weekly). This will keep your business relevant and alive in the minds of customers.
Depending on your target audience, you may also want to look at Twitter, Pinterest, LinkedIn, and Instagram.
Ensure you personalise your social media posts for each website, as customers, particularly Generation Z, prefer to see messages tailored to the channel they're using.
9. Try Facebook Advertising
Are you ready to increase the visibility of your small business? Facebook advertising is the way to go.
There are different formats of ads available on Facebook that can help you boost brand visibility, generate traffic to product landing pages, and even gain new followers.
Whatever your aim, there's almost certainly a Facebook ad format that will help you achieve it.
But proceed with caution. You could lose money if you don't properly target your audience.
See Also: How To Target Wealthy Individuals With Facebook Ads
10. Try Out Live Videos
Live video is an excellent approach to humanise your digital marketing strategy.
Customers will feel connected to your business when you show them what happens behind the scenes, and you can also showcase new services, products, or discounts.
If you go live on Instagram or Facebook, your audience will receive notifications letting them know you're online and urging them to keep watching the video until it finishes.
A growing number of people are using live video to express themselves. It's among the most popular digital marketing ideas for small businesses, so jump on it while it's still strong.
11. Make a Video for Your Google My Business Page
According to a recent Google statement, small businesses can now insert videos into their listings for free.
Your business's clips will appear in the pictures section of your Google listing, providing you with greater control over what buyers see before making purchase decisions.
If you have instructional videos that can help customers learn more about your business, ensure you use them in your Google listing!
See Also: How to Create and Optimise Your Google My Business Listings
12. Engage with Customers Through Email Marketing Campaigns
Although some may claim that email marketing is no longer effective, the majority of small businesses still utilise it to maintain personal relationships with their customers.
In 2022, 54% of small businesses expect to boost their digital marketing efforts through email marketing campaigns.
According to HubSpot, 64 percent of small business owners agree that email marketing helps them reach their customers. A whopping 60% of those surveyed said that marketing emails impact purchasing decisions.
Email marketing is very important for retaining your customers. Because you're engaging directly with your customers, there's a lot more opportunity for personalisation and customisation in an email.
It's the personalisation that keeps people coming back for more.
Email marketing has an influence that extends beyond a clogged inbox. It's a crucial piece of digital marketing technology for small businesses trying to enhance their brand's impact and visibility.
13. Increase Your Website Marketing Efforts
In today's society, businesses must have a strong online presence. If your business doesn't have a web presence, it will be almost impossible for customers to find it in your market.
Small businesses can look no further than their web platforms to improve their understanding of website marketing, 
By 2020, around 56% of small businesses will have invested in website marketing to improve their web presence.
A good example of web marketing is blog postings. Relevant blog postings provide your company with the ideal opportunity to establish authority in your market.
Small businesses are expanding their presence online in order to meet their customers wherever they are right and make their journey as smooth as possible.
14. Create High-Quality Blog Posts
If you're in a highly competitive market, where most small businesses are, you'll need to consider a content marketing plan that will help you achieve your goals.
It might be quite difficult for small businesses to rank on the first page of Google search results for a broad keyword relating to their product or service.
For instance, ranking for "vegan restaurant in New York" would be nearly difficult if you're new to the market.
It'd take a lot of money and effort to pull this off. Thus, it's not feasible. Also, ranking for a broad keyword may not result in more customers in the long run. This is when your blog content comes to the rescue.
Here are some tips that can improve your blog posts.
Concentrate on the needs of the target audience

Ensure that your content is SEO-friendly

Craft your content in a way that demonstrates your credibility to your audience
See Also: Our Top 25 Most Powerful Content Marketing Tips Ever!
15. Use Chatbots
Artificial intelligence will be a big deal a few years from now. Indeed, by the end of the year, chatbot adoption is predicted to skyrocket, with chatbots being "the standard" for eCommerce platforms.
Chatbots are increasingly at the centre of small business innovation. You can now build your own bot as a business owner with so much ease. Facebook offers a quick way to make one if you don't know how to code.
According to studies, over 300,000 Facebook chatbots are active today, making it the most popular and favourite platform for chatbot deployment.
Furthermore, according to a collaborative survey conducted by Drift, Salesforce, and SurveyMonkey, 69 percent of consumers enjoy communicating with chatbots.
16. Encourage Online Reviews
This is one of the best and most cost-effective digital marketing strategies for small businesses. Urge your customers to post reviews online and keep an eye on your business image on review websites.
These online reviews can enhance the credibility of your business and can be a deciding factor between your business and your competitors.
You'll want to track your reviews and respond immediately to any unfavourable ones. Preferably, you'll want to keep your rating at four stars or higher.
Having stated that, you can get two types of wins from this strategy.
You can continue to improve your relationship with old customers and connect with them, and you can also leverage their reviews to win and convince new customers to visit or buy from your business.
See Also: Top 15 Small Business Ideas for Stay at Home Moms
17. Launch a Referral Program
Launching a referral program is one of the most successful and easiest strategies to promote your brand today.
The road to becoming a prosperous corporation is not easy to travel, especially when your business is in its infancy stage.
You need to be aware of the most effective and suitable techniques for your brand and niche.
Referral programs can only succeed and stay successful if they are constantly monitored. That is precisely why, throughout the planning phase, you must think about the analytics tools you will use.
Tracking your referral campaign will allow you to understand the source of the bulk of your referrals and the incentives that produce the most engagement, etc.
18. Build an Excellent Brand
Branding is the process of distinguishing your business in the minds of customers. Everyone can benefit from good branding, and it does not need to be pricey.
There's a lot you can do to create a distinctive brand for your business, particularly in this digital age.
It's important to have a unique business name, attractively crafted logo, eye-catching colours, a stunning and polished website, and other aspects that help convey your business value to your customers.
These elements should complement one another to create a unique vibe and tone.
See Also: The 15 Best Online Marketing Strategies to Increase Sales Revenue
19. Use Google My Business
Google My Business is among the most effective marketing tools for small businesses. The platform is a great marketing channel for businesses seeking local market penetration.
GMB listing shows ahead of the search results in the top part of the search page.
So, make an effort to get your small business at the top of the GMB listing.
If your marketing team can have your business listed in the top three results, you'll get a lot of traffic that will bring you a large number of customers without having to spend a lot of money on advertisements.
20. Stay Active on Social Media 
Small business owners can use social media to engage with new and existing customers. When done correctly, it has the potential to increase sales dramatically.
A number of entrepreneurs have even created a full-fledged business on social networking sites like Twitter, Instagram, and Facebook. Social media is a primary tool for attracting, engaging, and retaining customers.
Small businesses can't survive without consumers. No matter how large or small, any business would struggle to remain viable in the long term without a steady stream of satisfied consumers.
While there are many benefits of using social media marketing to improve and expand your business, the most obvious argument is that it will give you a greater customer acquisition rate and better brand visibility.
See Also: Top 30 Social Media Marketing Strategies For Small Businesses
21. Build an Engaging Email List
Using email marketing is among the most cost-effective strategies to promote your business. It's simple to use, gives you complete control, and helps you communicate directly with your target market.
Email is an excellent way to connect and interact with existing customers and is among the most effective customer conversion tools.
A good email list can help increase your campaign's success and return on investment (ROI). Building an engaging email list takes a bit of time and hard work, but it's extremely rewarding.
22. Provide Informative Content
This strategy focuses on providing information to potential customers regarding your service or product.
Everyone hopes to make sales, but those who can enlighten their customers are more likely to close the deal.
An advantage of this approach is that it instils trust in the customer because readers will see your business as knowledgeable and competent.
Ensure you have a knowledge base that demonstrates your brand value and attention to customer inquiries about your products and services.
Then, share the content via a variety of online platforms. This content marketing strategy is a tried-and-true method of attracting visitors to your website from a wide range of sources.
See Also: Top 10 Digital Marketing Strategies to Focus on During Pandemic
23. Influencer Marketing 
Digital marketing can be a lonely enterprise, and it's easy to feel trapped in your little internet bubble.
There are, however, a few ways to enlist the support of a legion of online partners to market your business.
This legion is composed of people that have a lot of power. They are influencers. Influencer marketing entails partnering with and promoting your company through influential personalities on social media.
This type of digital marketing takes full advantage of the allegiance and trust that binds influencers with their followers. It's also simple to scale up or down based on your needs.
For example, recruiting a bigger influencer with millions of followers can cost money. But if you have a limited budget, you can target a community of small nano-influencers with a following of 10,000 or fewer people.
Don't be discouraged by the numbers. Nano-influencer marketing is still a viable brand promotion strategy.
Nano-influencer Instagram profiles with fewer than 5,000 followers, for example, have an engagement rate of 5.3 percent to 7.2 percent.
For the biggest Instagram influencers, that number shrinks to a pitiful 1.1%. We highly recommend implementing this form of digital marketing idea for your small business.
See Also: 9+ Best Influencer Marketing Software Tools
24. Set KPIs
No marketing strategy is foolproof. In fact, with so many digital marketing solutions, it's not uncommon for one strategy to be a massive success while the other is a complete flop.
This is why you should design KPIs (key performance indicators) to keep track of your progress.
You can tell if your marketing efforts are producing the expected outcomes by defining and creating KPIs.
Adding hashtags into your social media posts—not just on Instagram, Twitter, and TikTok, but also on Facebook and LinkedIn—is another simple marketing strategy that can help you expand your reach.
While broad and trendy hashtags will help you strengthen your brand identity, they shouldn't be your only option. When sharing ideas or suggestions, more detailed hashtags (similar to long-tail keywords) are useful.
If you're a local business, you'll want to use hashtags specific to your location. Don't forget about your own hashtags! Use a variety of hashtags in your posts to ensure they reach your intended audience.
See Also: Top 15 Instagram Story Maker to Get More Views on Instagram Stories
Conclusion
Finally, when it comes to marketing your business online, these innovative digital marketing ideas for small businesses can provide you with a starting point.
However, keep in mind that not every strategy will work for every business, so don't be scared to try something new and see if it works. If a technique isn't working for your business, let it go, re-strategise and look for a better solution.
As digital marketing and the digital ecosystem evolve constantly, your strategies are likely to change as well.
Also Read: