As a retiree with hopes of becoming a successful entrepreneur, there is no doubt that embracing the reality of retirement can be frustrating at first but you have to live with that.
Without arguments, it's obvious that most retirees don't buy the idea of working in their retirement, but at the same time, some bad conditions could leave them with absolutely no choice.
Also, staying motivated, active, and 100% mentally productive is a very good way to manage health issues due to natural ageing processes.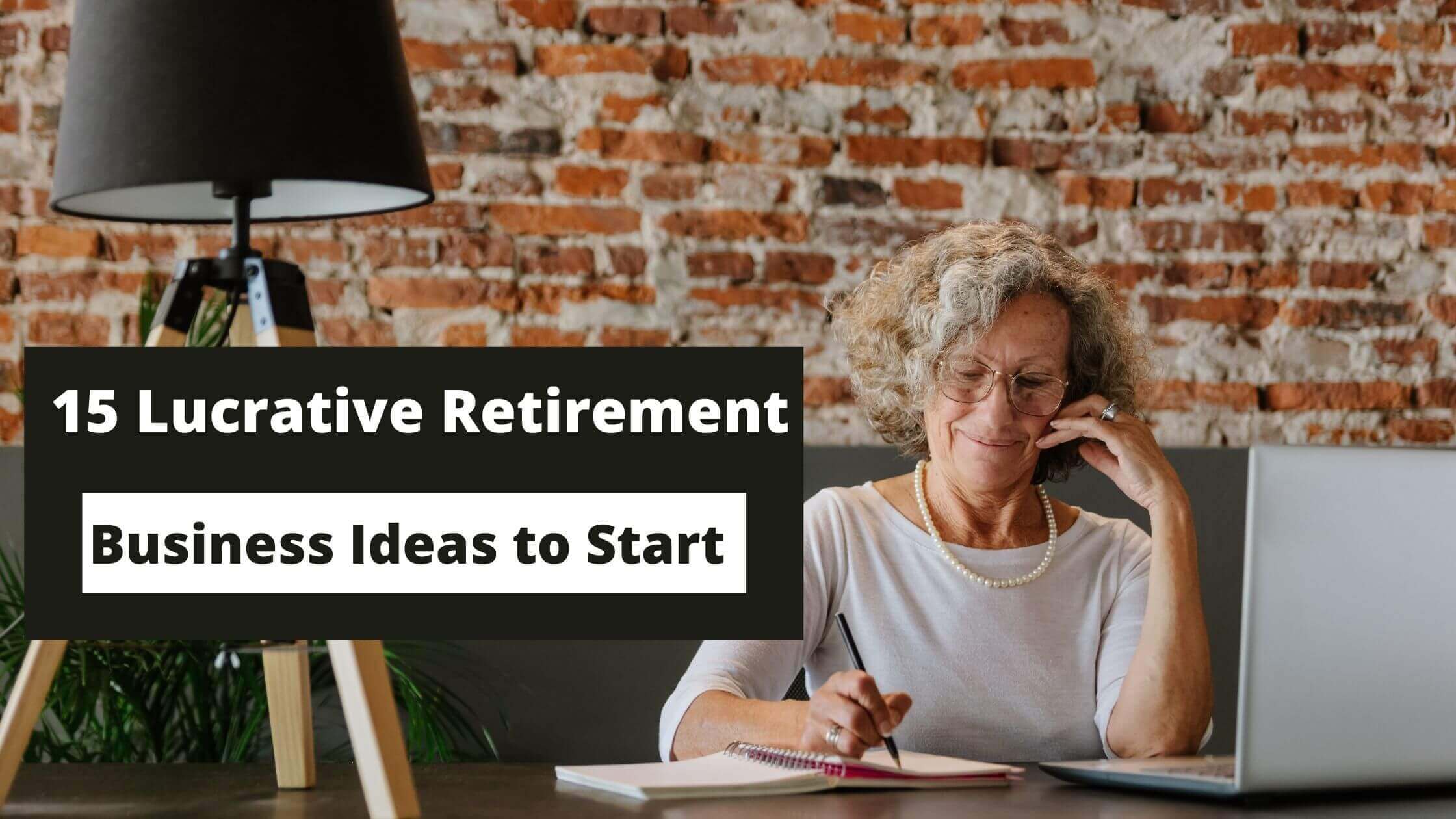 You can be a billionaire and a successful business person, even at old age. It's just never too late to achieve whatever it is you want in life, even at old age.
We all know that retirement is a time to relax, at the same time retirement may not be so ideal as most retirees get extremely idle and bored, and this might not be so good healthwise as retirees are elderly people.
Hence, the purpose of this post is to serve as a guide for you as a retiree or soon to be seeking retirement business ideas to embrace as a senior.
Benefits of Retirement Starting a Business After Retirement
There a quite number of benefits of starting a business after retirement and they include:
1. It helps you stay active and healthy
2. Opportunity to earn extra income
3. Supplement retirement savings
4. Another chance to revisit your passion
5. It promotes mental health
6. You have a niche experience
7. It helps you stay social
8. It avails you the opportunity to fund your passion
9. You can create generational wealth
10. Great time to inspire others with your experiences.
See Also: 21 Best Webinar Software to Consider in 2021 (Top Ranked)
15 Retirement Business Ideas to Start as a Senior
Here are the top retirement business ideas to start with little or no capital as a senior.
1. Blogging and Writing Services
Blogging is a business you can do from home. If you're a retiree that loves writing a whole lot, you can try this out.
It's better to choose a blog niche you have a wealth of experience in, this is one easy way to gain readership. A retired medical doctor could own a blog where he or she writes about health.
The same way a retired police officer can own a blog and strictly write about safety. No knowledge is a waste, remember?. There are lists of several topics you could explore, based on your level of expertise.
Or you could also blog about your life, your experiences and your profession as well. Even if you choose to write and publish fiction and nonfiction works, you're totally free.
There are no limitations in the writing world.
See Also: Blogging for Beginners: 21 Things You Should Know Before Starting
2. Become a Coach
There are lots of people looking for someone who has been where they want to be and ready to share experiences and best practices. Becoming a coach is a profitable business that retirees can venture into.
As a retiree, it will be easier to grow this business of coaching considering your wealth of knowledge and experience.
We strongly recommend this business for all retirees.
3. Investment in Agriculture and Equipment
We really cannot deny the fact that agriculture is the next big thing. No matter how difficult the economy gets, people will just not stop eating.
Farming actually has diverse aspects. Some of these aspects include; crop, livestock, fish, and poultry farming.
The most interesting aspect of this segment of Agriculture is that it requires small capital and it yields really huge profits.
If you find poultry farming quite interesting, you can go into it and produce eggs and chickens for both wholesale and retail.
This could be a means of livelihood. You could also go into supplies of farm equipment, implements, fertilizer etc.
4. Commercial Real Estate
Commercial real estate is a lucrative business to start after retirement. As a retiree, you can start off by buying houses and flipping them or even renting them out. It is a great way to diversify your income.
By renting out houses as a retiree, you can generate steady income that supplements your pension. If you looking for faster-growing retirement business ideas to start, then consider commercial real estate.
See Also: How to Generate Leads for a Real Estate Agency
5. Events Planning
Event planning is #3 on our list of retirement business ideas.
People of all classes always have a reason to celebrate  – birthdays, naming ceremonies, anniversaries and even burials. It won't be surprising to know that celebrants are always ready to pay someone to plan their events, because it's such a stressful task to carry out.
So if you know you're good at planning and putting things together, to create memorable events for your clients it's advisable you give this a try.
You can use your connection as a retiree and acquire customers. It won't cost much to start an event planning business after retirement.
6. Catering and Food Business
Almost everyone is hustling and seeking ways to make both ends meet might just not have the time to fix good meals for themselves. This is where your services are needed.
If you're a good chef, it's time to exhibit your cooking skills as an exceptional caterer. It's time to convert your passion for cooking into a profitable business.
Catering for your former staff at work won't be a bad idea.
See Also: 9+ Best Influencer Marketing Software Tools
7. Car Importation
The importation of cars can be a very good and reliable source for creating generational wealth. Most especially where most people love luxury rides.
Leveraging your existing network will make it much easier to succeed.
If you're a lover of good cars, you could turn your passion into the business of car importation.
The first step is to start with writing a business plan, and in no time you'll make so much money than you thought.
8. Jewelry Sales
We all know how much people love jeweleries. Making good money through sales of jewellery should be on your list of retirement business ideas to start.
You can be a dropshipper, but I'll advise you to own it as your own business. Create a brand name for yourself and be consistent with it.
9. Become a Dangote Distributor
The outstanding Dangote product you can distribute is cement.
Cement is in high demand every single day, because of the rates at which construction projects are currently going on in the country.
This business is really lucrative and very much profitable and it's a good business for retirees to venture into.
Make sure to carry out market research, this will put you through your next step. Then you think of getting a warehouse in an accessible location.
See Also: 9 Best Video Marketing Tools Ever for Online Marketers
10. Own a Pharmacy
Owing a pharmacy is a great business idea for retired nurses, pharmacists or medical professionals.
I cannot overemphasize how lucrative this business is. All you will need will just be to acquire a shop space, get authentic drugs supplied to you and you're good to go.
Also, if you are not in the medical field and would like to consider this business idea, then you might need to get a licence and hire a professional nurse to help you in the first few years.
11. Be a Trainer
Being retired doesn't mean you cannot be up and doing. It also doesn't make all your wonderful skills and knowledge disappear suddenly.
Getting started shouldn't be difficult at all. All you need to do is to decide on a particular field you know you're really skilled at and then starting training interested people.
There are diverse areas of training and they include makeup, tailoring, jewellery, bead making, hairdressing, nursing, etc.
You could as well be a sports trainer or a fitness coach. You could decide to run the training from your home or from any location of your choice.
See Also: Top 15 Essential Digital Marketing Skills to Acquire
12. Consultancy
Consultancy is a very good business idea for retirees. Coupled with the fact that they've gathered a whole lot of experience with advanced degrees or specialised experience.
For instance, retirees with experience in programming, website development, lecturing etc are always in high demand.
It might interest you to know that most companies can afford to pay consultants really high fees because they don't have to pay for the benefits attached.
As a retiree, you'll love to start a consultancy business in the area of your expertise.
13. Radio Show
Are you an expert in parenting, gardening, finances, or any area of interest?
You might consider hosting a radio show even from the comfort of your home (this means you can own your own home studio).
You can make money from advertising, and residual products of books and other related products you can think of.
To be honest with you, you'll need background experience in broadcasting and communications, and being tech-savvy as well is also very important.
Try increasing your audience by volunteering to do regular programs on other stations, local outlets or web conferences too.
Try building your business name recognition in every possible way you could think of. You could make awareness on social media and also speak about it at the slightest chance you get.
14. Online Store
Times have changed, back in the days there was nothing like owning an online shop. But today, we are all gradually embracing online marketing.
You can start your online store as a small business with plans of getting a shop later.
You'll need to be good at product photography or you learn the skill, so you can easily take photos of the products you'll post Online.
As a retiree, this is a really lucrative and stress-free business you can venture into.
The good thing about this is that you can do it from any location of your choice. If you get the right products at affordable prices, you'll definitely be able to sell them at a good price and make a profit.
See Also: 9 Best Ecommerce Platforms  (Top Rated & Reviewed)
15. Dog Walking
If you love dogs, starting a retirement business in dog walking might be the perfect fit for you. Due to busy schedules, most people that have dogs are not able to give them the needed attention they require.
While dog owners are at work, you can help them take care of their dogs.
As a dog walker, you can make a few hundred dollars per month. It also gives you the opportunity to spend time with a man's best friend.
Conclusion
Ultimately, retirement is the time to enjoy and reap the reward of your labour.
In starting a retirement business, it is important to venture into what you love to do or the area of your passion.
Whether you are into commercial real estate, blogging, or lending your expertise as a coach, there are ways to turn your passion into lucrative small businesses after retirement.