"Is it possible to earn money from OnlyFans without followers?". 
If you have ever pondered this question, this article will satisfy your curiosity and keep you informed to make the right choices. 
The fact that you don't have followers shouldn't hold you back from registering an OnlyFans account.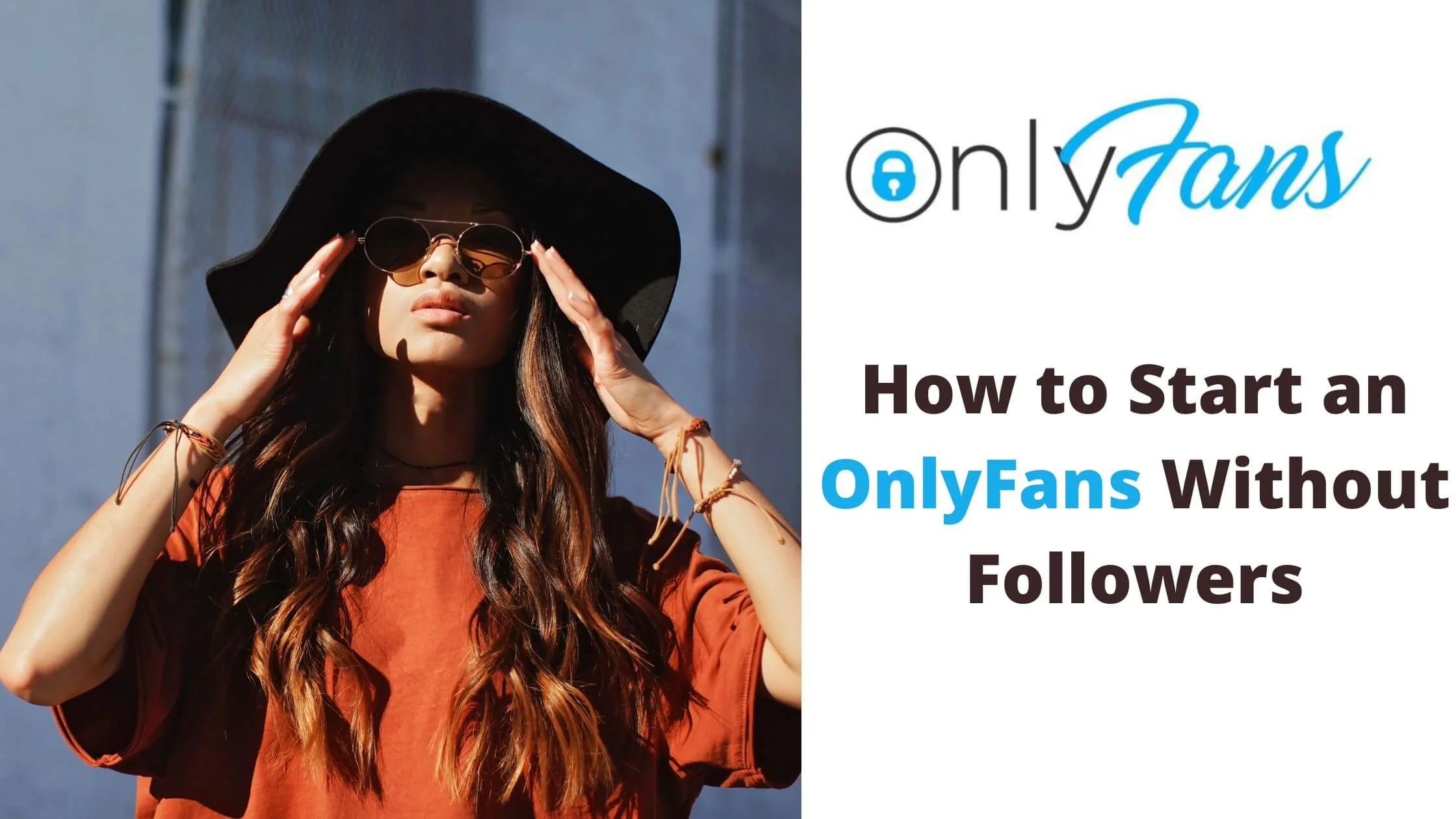 How to Start an OnlyFans Without Followers
As a novice, we have some strategies that can help you set up an OnlyFans account without followers. 
The following are the keys to succeeding as a new content creator on OnlyFans.
This includes a solid content promotion strategy, establishing a sales funnel for your material, and putting out interesting content. 
Before we look into seven vital strategies, let's analyze what we have to do to get results. 
You need to have the right mentality and work hard. 

Your expectations have to be achievable and practical.

Be satisfied with slow, steady income growth rather than a dramatic, rapid income boom. 

With the right frame of mind and result-driven goals, you can accomplish great things on OnlyFans and enjoy high earnings. 
How Long Does it Take to Become Successful on OnlyFans?
To become successful on OnlyFans, you will have to invest your time and energy, consistently churn out quality content and have an optimistic attitude.
With all these traits, you are one step ahead. 
Also, with hard work, you can earn around a thousand dollars monthly in three to five months after setting up your account. 
After hitting the thousand dollars monthly threshold, there's a huge likelihood that you will enjoy earnings hovering around five to ten thousand dollars on the site. 
Bear in mind that the primary factor in earning big from OnlyFans is consistently putting out quality content, zeal and a desire to succeed.
To cultivate a solid fanbase on the platform, you need brilliance, careful planning and creative thinking.
How do you achieve this?
Here are some great tips that can lead you to success on OnlyFans without followers:
Easy Ways to Start an OnlyFans Without Followers
We will explore how you can easily start an OnlyFans without followers.
These strategies are not a certainty. But a roadmap to assist you in getting where you wish to be on the OnlyFans site. 
In essence, everything boils down to your hard work and content. So let's explain these strategies. 
Choose a Profitable Niche
I am sure you must have come across articles that explain how important your niche is to your success as a content creator.
Passion is a vital ingredient in creating content that your fan base will appreciate. 
Thus, being passionate about your niche is a must.
Your niche will also help you showcase your style and personality in your work, as well as grow your brand and craft a persona.
So every aspect of your content should revolve around your niche. 
From your costume and wear to your decors/ accessories to your mannerisms and language style to your personality and style of expression to your storyline, they should all immerse themselves in your niche. 
Some examples of OnlyFans niches are Bitchy, Athletic Babe, Adorable at Home, Meditation, Manga or Dress up, etc.
OnlyFans is not solely for adult content or kinks. 
Although this content is very popular on the platform, funny acts also reign supreme. 
This is why you should do adequate research into successful OnlyFans creators to find out how they craft content, create brands, put together on-screen personas and entertain their fans.
Check out important aspects such as descriptions, postings and even their pictures. It's a great way to stay on top of the latest trends from OnlyFans' stars. 
Furthermore, focus on the way they post and how they promote it. For example, find out which social media channels they regularly use. 
Self-Investment is Crucial
By "self-investment", we are suggesting that you purchase the best tools needed to create great content. 
There is no niche without serious competition. This is why it is important to outmatch them or put out more superior work. 
You can't achieve this without excellent content. If you don't have a big budget, you can start with your smartphone. 
Also, you need to get the following item:
Lighting (Ring Light) – costs around $15 to $40. 

Tripod stands for smartphone – costs around $30 to $65
So to create quality and visually appealing content, you'd need to budget roughly $55 to $120. 
Strategically Put Out Content
What does it mean to put out content strategically?
There's a three-step rule that many successful OnlyFans creators follow when putting out content. 
While there are many other rules, it's among the fastest and most reliable ways of managing content for many creators. 
Set up an OnlyFans account using the free one-month trial subscription or set up the least expensive subscription. 

Channel your OnlyFans page promotional activities to Reddit. This is the most effective way for anyone starting out on OnlyFans from scratch. 

Sell your videos via Pay-per-view (PPV) messages.
This rule has a structure which allows you to make money from PPV and tailored content you upload and promote on the platform.  
Thus, it is important to begin with a free trial or low-priced subscription while getting lots of people to buy your content on OnlyFans.
First, you will need to draw traffic to your page so you can churn out messages to fans with tailored and tempting offers.
The following will help:
A collection of subreddits for OnlyFans content promotions.

25 to 40 preview photos to grab the interest of fans and for promotions. 

Menu list of offers to promote on OnlyFans using PPV messages. 

4 to 6 brief videos for page promotions (not compulsory but smart).

Set your price rate to low-tier subscription or free. 
When signing up for a new account, consider a free one-month trial for fans, or choose a low-level subscription to draw fans. 
Start Promoting Your Page on Reddit
As a new user, Reddit is probably the perfect tool for your OnlyFans page promotion. The reason why is that your follower count doesn't matter on Reddit. 
If you create entertaining and creative content and share it on relevant subreddits, you will direct traffic and fans.
In this case, your follower count is irrelevant. 
The better your content, the likelier it is to get upvoted. This grows the popularity of your page.
To proceed, you can try Instagram for promotions, but Instagram favors those with huge followership. 
The unique thing about promoting your content on Reddit is that it provides an equal chance for those starting out in social media marketing to garner clicks. Ensure you leverage this 
Reddit is a platform where users form communities where they can explore their hobbies, passions and interests with other like-minded individuals. 
Subreddits are collections of threads or sections on the Reddit platform that are based on specific hobbies, passions and interests.
To put it differently, niches. Reddit and subreddits have an architecture that revolves around voting (upvotes or downvotes). Users can also post comments and share content.
Many upvotes increase the popularity of content within the subreddit, increasing its exposure. Your follower count can help a lot in this case. Upvotes are essential. 
You must pay attention to Karma (link and comment) which analyzes and weighs the number of upvotes with downvotes. 
Where do you find selected subreddits related to your niche?
Here are some great ways to discover niche subreddits 
Promotion on TikTok
Regardless of how long you have been on OnlyFans, TikTok can help you build your page and cultivate your following. 
After Reddit, TikTok is the most effective tool for content promotion. 
TikTok has almost similar functionality to Reddit because there is not much emphasis placed on social proof.
We are not saying followers are not important on TikTok; however, compared to Instagram and other social networks, you don't have to worry too much about it here. 
To become immensely popular on TikTok, you have to master how the algorithm works and leverage it to your benefit. 
It is highly important that you do not directly link your OnlyFans to your TikTok page. This can lead to a ban on your account; never try it.
So how do you draw traffic from TikTok to your OnlyFans page?
Add your Instagram link to your TikTok.

Add Linktree to your Instagram page.

Attach your OnlyFans link to your Linktree. 
To promote your page on TikTok, you need consistency and the ability to jump on trends.
So, do live stream sessions, emulate successful creators (never outrightly steal or copy), be creative and fun, engage with your followers and pay attention to your analytics.
How to Start an OnlyFans Without Followers FAQs
Can you start on OnlyFans without any followers?
Yes! While it is less likely that you will earn millions of dollars monthly, you can generate a substantial income on the platform. 
How do I protect my OnlyFans account?
To protect your account:
Set up your account with a business email address. 

Enable two-factor authentication. 

Update your privacy settings when necessary. 

Pay attention to your posts and content. 
Does it pay to be an OnlyFans creator?
Absolutely. OnlyFans is a good platform to monetize your content. As long as you work hard, there's every chance to live comfortably off your creative works. 
Conclusion
To start an OnlyFans without followers, you have to invest your time and effort, be creative, define a reasonable objective and expect slow and steady growth rather than a quick rise to the top. 
You can channel your promotional activities to Reddit, and next, TikTok to grow your page. 
Ensure you don't post things that will lead to the termination of your account on these sites. 
Also Read: