"How much does it cost to promote on Instagram?" remains one of the most asked questions by business owners and advertising agencies.
Although Facebook and Instagram advertising are both based on similar Ads Managers, their prices for advertising vary.
Because of Facebook being in existence for longer and having more data and more ad spots compared to its less popular sibling platform, we have found that, more often than not, Instagram is slightly more expensive than Facebook in certain instances.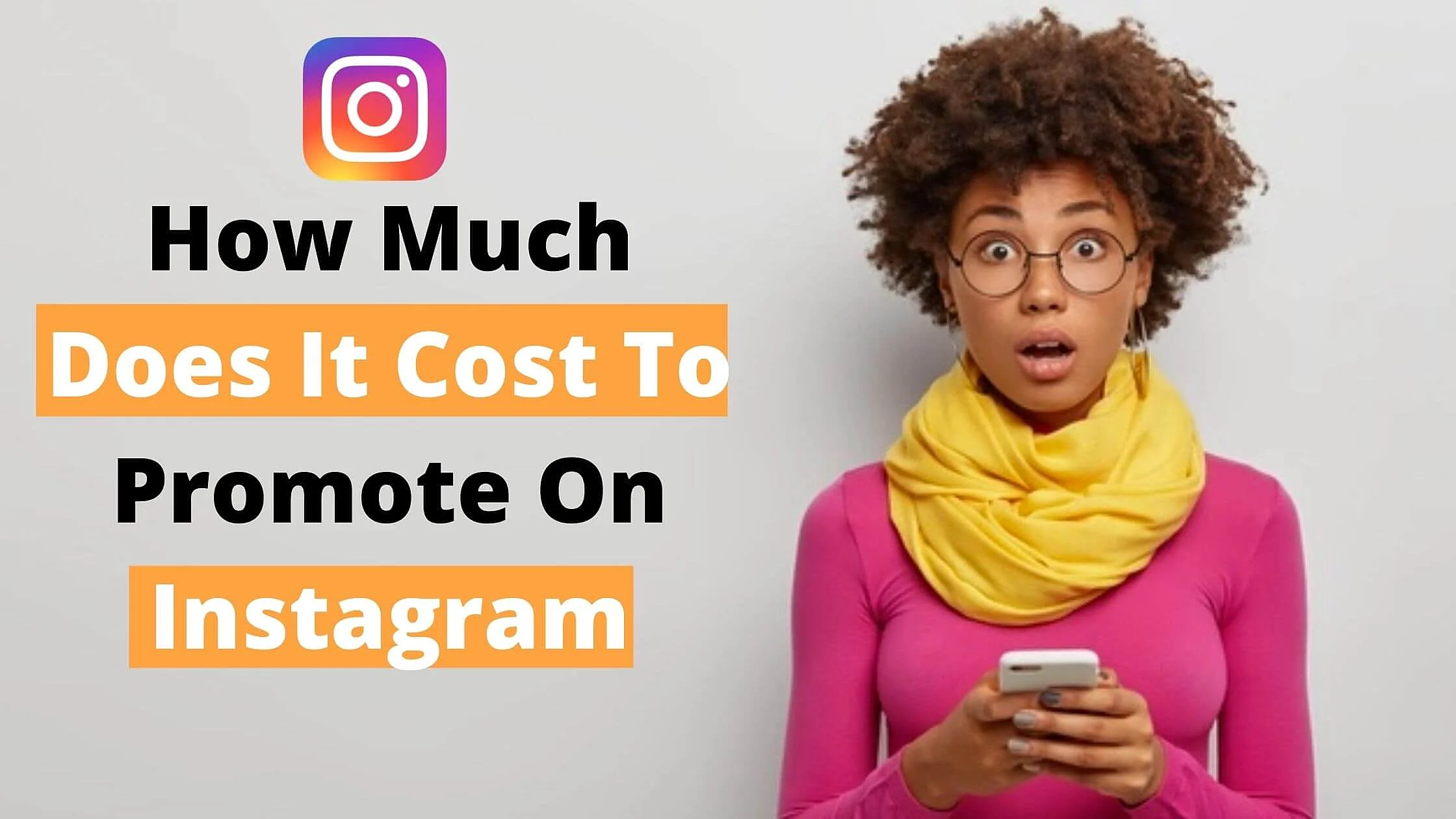 However, if that's an issue but don't let that stop you from taking a look at this profitable and powerful visual alternative to Facebook's ecosystem.
With fewer ads, greater competition for impression share it is possible to pay a little more for Instagram however, you could find it to be far more affordable than the results you're getting from Facebook.
Paid advertising is an effective marketing tool for Instagram and can complement the content brands can achieve through their Feeds, Explore tabs, and Stories. 
Although Reels and IGTV do not yet offer advertising options certain campaign objectives within Facebook ads manager support placement on Reels and IGTV.
We could be seeing them as a feature within their respective dashboard as the platform expands and the demand for more impressions arises.
Like Facebook ads, Instagram ads provide advanced targeting and flexibility to be a viable option for almost any type of business.
If Instagram is popular with your customers, then you may wish to promote your business on Instagram.
To help you comprehend the price, we're going to discuss:
How do Instagram advertisements function?

What is it that makes Instagram advertising worthwhile?

Factors that impact Instagram advertising costs.

Cost per click average cost per click, cost per engagement and cost per 1000 images on Instagram.

Tips to make sure that your

Instagram advertising costs

are low while you learn how much it costs to boost an Instagram post.
Before we take a deeper dive into how much it costs to promote on Instagram, let's learn more about the process, benefits and costs to advertise on Instagram for the year ahead.
See Also: How Much Does It Cost to Advertise on TikTok
What is the Process Behind Instagram Advertisements?
Based on the goals for your campaign the ads that appear on Instagram may include as many as 18 buttons that call to action, may link to your site and offer users the option to download apps or browse online at stores.
It isn't necessary to have an Instagram account advertise on Instagram. Because Facebook is the parent company of Instagram and all you require is a Facebook business Page.
But, it's best to establish an Instagram account to get familiar with the content that is most appealing to your intended audience. It can also enhance and complement your natural Instagram advertising efforts.
Make use of the Facebook ads manager to easily create a campaign, and monitor as well as optimize your ad performance with the valuable insights that it provides.
With it, you can choose your budget, the target audience, ad locations, alongside optimization possibilities.
Like Facebook Ads, your Instagram ads will be displayed within the specified time frame the budget parameters, choice of audience, and optimization objectives.
See Also: How To View Private Account Followers On Instagram
What Makes Instagram Advertising Worthwhile?
There are many benefits when you sponsor a post on Instagram either as a business or personal brand. Below are some of the reasons that make Instagram promotion worthwhile. 
1. Instagram Ads Offers Advanced Targeting
With over one billion active users on a daily basis, Instagram ranks second just in the same category like Facebook.
Instagram and Facebook offer a wide variety of targeting data and, since Facebook is the sole owner of Instagram, Instagram advertising utilizes the same vast data about geographic and demographic information.
This type of sophisticated targeted advertising is what makes Facebook ads so effective because it is possible to be very prescriptive when you target different categories.
You can target Facebook's native audiences that are based on preferences, behaviors and other demographics. The advertising platform also allows you to upload and use your own personal audiences via your Facebook Pixel, email and SDKs as well as other sources.
The success of your advertising depends on your ability to target the right people with your Facebook ads with both retargeting as well as lookalike audiences. 
2. Higher Engagement Rates With Instagram Ads
Instagram is renowned for its high levels of engagement, both organically as well as through paid advertisements. Instagram images are known to get an average of 23 percent greater engagement than posts on Facebook.
In terms of organic engagement, the brands using it claim that they get approximately 4 percent of their Instagram followers viewing their posts in comparison to the nearly insignificant organic reach Facebook is currently enjoying.
Although it's more effective, it's still a good idea to boost your Instagram post in order to reach more audiences with paid ads.
While any type of visual content may perform well, brands usually see greater engagement from video ads — around 38 percent more. Since Instagram is a visual platform, videos and images are effective in generating greater engagement than other text-based social networks.
See Also: How To Increase Sales Volume With Digital Marketing
3. External Links
Instagram is currently not allowing clickable links on organic posts.
It is possible to include the link to your message or caption however, the user must copy and paste the link into their browser or go to the link on the profile on Instagram bio.
In the case of Instagram ads, advertisers are able to add external links. This allows you to create an URL that will lead to your site or a landing page.
In order to be able to more effectively monitor the traffic to your website through your Instagram ads, it is advised to utilize your own domain, so that you can install a Facebook pixel and even Conversion API.
If you use a domain that you do not own, you won't be able to have this control over your data for better campaign optimization.
4. Longer Video
​​​​​​​​​​Explore and Instagram Feed videos can run 60 seconds maximum, while Stories typically last between 15 and 30 minutes in length.
If you are running ads in these three spots, you could have up to two minutes of content in the video. This gives you more opportunities to promote your brand's image and the benefits and benefits of your offering via your products or services.
See Also: How to Check Who Reported You on Instagram
How Much

Does it Cost to

Promote on

Instagram
In all metrics, Instagram's cost per click in 2022 will range from $0.40-$0.70.
This is based on the total number of clicks within an advertisement that includes more than links, but also likes/reactions as well as comments and shares.
If the ads have an end-to-end URL, Instagram's cost per click for 2022 is between $0.50-$0.95.
Cost per 1,000 impressions on Instagram Ads (CPM)
The cost per thousand impressions in 2022 is between $2.50-$3.50 for more efficient campaigns and their associated advertising sets.
In terms of CPMs our research has shown the fact that Facebook typically is more expensive than Instagram by almost 2x however, CPCs generally are less by almost half on Facebook when compared to Instagram.
See Also: How To Check Who Unfollowed You On Instagram
Instagram vs Facebook Ads Cost
Even though Facebook Instagram and Instagram advertising are both built upon the exact same Ads Manager, the costs of advertising differ.
With Facebook having been around for a longer time, with more information and more ads to show compared to its less well-known Instagram.
We can see that generally speaking, Instagram is somewhat more costly than Facebook in certain instances.
If that is the case, don't allow it to stop you from taking a look at this powerful and profitable alternative to the Facebook platform.
With fewer advertisements and more competition to gain impressions, users will need to pay more for Instagram but you could find it cheaper than the results you're experiencing with Facebook.
How Can You Lower the Cost of  Your Instagram Advertising Costs
Get the most value from your budget by choosing funnel-friendly goals for your campaign before you begin.
If you're targeting a less cold audience, broader, and prospecting, try less expensive campaigns that present your brand's message to the public through brand awareness and engagement.
Perhaps, you can even create a campaign to drive traffic to your website in order to have these users exit Instagram and go to your website, and they are tagged by the Pixel so that you can then retarget them later on if they don't convert with the initial click.
If you're just beginning to learn about Instagram Ads it is possible to generate sales with the very first interaction and click but typically customers will require several interactions with your brand to establish trust.
Perhaps they go to shops and compare the pricing and more info about the product before coming back to you via retargeting or other remarketing strategies that you have established.
If you've got products that are low-cost and don't require a lot of research, the impulse purchase can be a success via Instagram.
Another method to reduce your Instagram ad cost is to make use of automated placements that are at the established level that are available on both Facebook as well as Instagram.
If you have more placement, it will give room for liquidity. 
This allows the system will make use of its algorithm to determine which areas are best suited to your ads, offering them more options across both platforms, and more ads, and thus decreasing competition in Instagram's three ad placements currently which will lower your costs.
See Also: How To Recover A Hacked Instagram Account Really Fast
How Much Does Instagram ads Cost? "Recap"
Instagram is continuing to grow and the advertising options continue to get more extensive. It's not yet overcrowded and we can be confident that more ads are coming our way.
Try Instagram Ads an opportunity to test it and check how it does against Facebook Ads as well as other platforms that you might be operating on.
It might end up being an integral element of your marketing funnel, creating engagement and brand awareness, or being the primary stream of income.
Instagram ads cost per click- $0.40-$0.70 "link clicks, likes, reactions, comments, shares"
The Instagram ads cost per click to landing page URL: $0.50-$0.95.
Instagram ads cost per engagement: $0.01-0.05.
The cost of ads on Instagram is per 1000 impressions: $2.50-$3.50
See Also: 25 Best Instagram Audit Tools to profile Your Account
Conclusion
With this article, we hope that we have answered your questions on "how much does it cost for an Instagram ad". You can also check out 25 Smart Instagram Marketing Strategies that actually work and How to Contact Instagram Support to Fix Account Issues.