Social media influencer in Nigeria has gone through a huge spike in popularity over the years and with good reason. So is digital marketing. 
There are so many brands in need of influencers in Nigeria. Hence, it is one of the ways to make money online in Nigeria.
Becoming a social media influencer in Nigeria goes beyond posting nice pictures frequently on Instagram or tweeting well-written quotes on Twitter.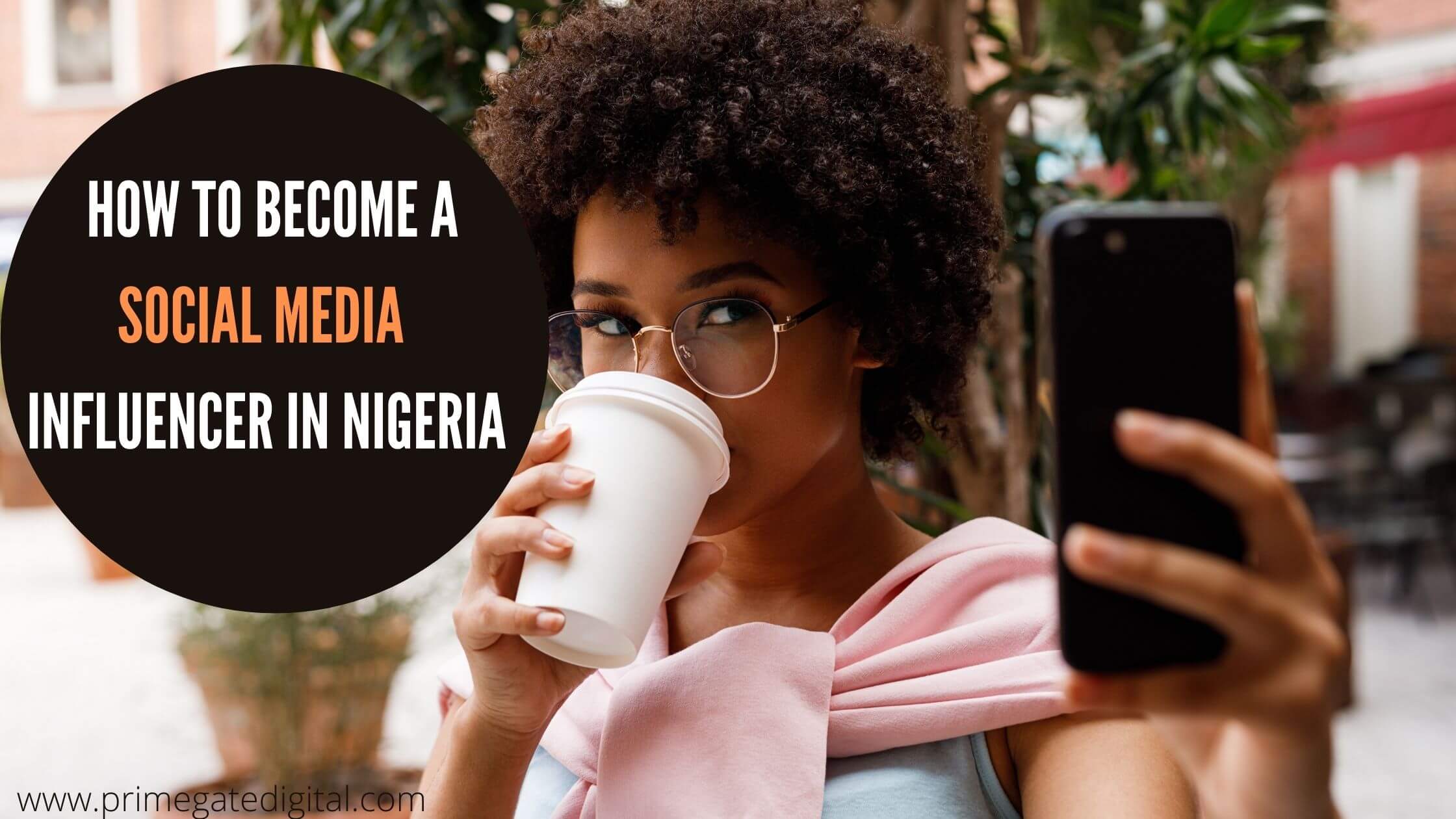 Building a community of highly engaged followers isn't as easy as it may appear.
It requires consistent effort on the influencer's path. The whole world is talking about social media influencers, but do you know what it really takes to be a social media influencer?
For so many years now, influencers in Nigeria often come up from the entertainment industry like actresses, actors and musicians.
That was then, but now anyone can actually be a social media influencer, you really do not need to be a celebrity.
All you need is the passion to make it happen. One thing you should know about social media influencing is that it is relatively very cost-effective compared with traditional marketing.
You might also want to check out:
Types of Social Media Influencers
Social media influencing has become so successful.
Brands working with influencers are making more than 5x – especially when they find the right one to work with.
Where the task lies in finding the best types of social media influencers to drive real results for the brand.

Below are five types of social media influencers:
Nano-influencers with 1K to 10K followers
Micro-influencers with 10K to 50K followers
Mid-tier influencers with 50K to 500K followers
Macro-influencers with 500K to 1 million followers
Mega-influencers with more than a million followers (mostly celebrities)
See Also: How to Become a Tiktok Influencer and Make Over $10K Monthly
Attributes of a Social Media Influencer in Nigeria
As a social media influencer in Nigeria, there are some qualities you should possess. And these qualities will help you do better in social media influencing.
Persuasion Ability
You have to be able to persuade the public about what you're advertising and convince your followers to take certain actions.
Social media users really adhere to the words of influencers. It's not magic but simply persuasion power and credibility built over time.
With this particular quality as a social media influencer, you influence the buying decision of your followers.
Story Telling Ability
Even if it is not required of a social media influencer to be a professional writer, it is recommended that you should be able to tell captivating stories in an extremely compelling way.
This will make you connect with your social media followers at an emotional level.
See Also: 15 Smart Ways to Make Money on Facebook in Nigeria
Trust
Trust is not only needed in physical interactions and associations with people. Even as a social media influencer in Nigeria, trust is needed.
An influencer has to be original, honest and very much transparent to gain the trust of his or her followers.
Any influencer without these qualities is likely to lose social media attention which is a valuable social currency.
Benefits Of Influencer Marketing
There are numerous benefits of influencer marketing to brands.
Drives Brand Awareness

Connects To A Wider Market

Creates Partnerships

Builds Trust And Credibility

Reaches Target Audience

Sets A Trend

Drives Sales Conversions

Generates Leads
How to Become a Social Media Influencer in Nigeria
From afar, you must have thought that being a social media influencer in Nigeria is quite easy. Maybe you think it's just by being online and posting from time to time.
But the whole truth is that it is a serious job. You have to be so intentional with your efforts while doing it.
Don't ever think of buying followers. The best way is simply to build your followers organically, it might be tasking but it'll be worth it in the end.
Fake followers on social media can never give you the engagement on your posts that you desire. You might also attract uninterested brands and followers to yourself.
Another truth about buying followers is that fake followers are likely to unfollow you either sooner or later. So that's a total waste of money and time.
It's not too late to start growing your page and followers.
See Also: How to Make More Money on Fiverr in Nigeria Doing Less
The following are steps you must follow to become a social media influencer in Nigeria
1. Create Social Media Accounts
We can't be talking about social media influencing without Social Media. You definitely have to be on social media to be a social media influencer.
It is the first step to becoming a social media influencer in Nigeria. From the various social media platforms, it's not mandatory that you must be active on all social media platforms.
You could choose two accounts that you can conveniently handle, let's say Instagram and Twitter or Facebook and Instagram.
Two social media accounts that are well-managed can do the magic for you. We insist on two because if one of them has an issue, you'll definitely have a backup plan to stay on top of your game.
As a best practice, get a username that easily tells your niche and can easily be remembered.
See Also: Lucrative Business Ideas in Nigeria to Start
2. Create Quality Content
Quality content is really important. To be able to come up with good content consistently, you really have to put in a whole lot of work.
You just have to have a good knowledge of your niche and your target audience. Then go all out to create engaging and quality content that resonates with your audience
Coming up with good content can be quite overwhelming. You have to do research and follow other influencers in your niche for insight into content ideas.
Without a doubt, the quality of your content will greatly contribute to determining how much of an expert you are in your industry.
If your contents are just there and not engaging in any way, no one might be so willing to follow you.
Creativity sustains influencer marketing. You must think outside the box and create highly engaging content. Also, use social media icons to also increase post engagement really fast.
3. Choose a Niche and Follow your Passion
Influencer marketing isn't easy as it may appear. Having in mind that this is a lifelong business, you must have passion for what you do. 
There should be a thin line between your social media influence and your passion.
You could focus on comedy, motivation, tech, education, parenting etc. Just be sure to choose a niche that is in line with your passion.
Once passion is involved, you'll have the zeal to keep pressing and easily find motivation. And even through tough times, you'll keep creating good content.
See Also: 10 Hot High Paying Affiliate Marketing Programs In Nigeria
4. Consistency is Key
It is popularly said that out of sight is out of mind. There is a tendency that your followers might forget about you and your business if you are not consistent.
However, there are social media marketing tools that can help you schedule your posts, and this will greatly help you attain frequency for your posts.
This can also be termed automation. One of these tools is Hootsuite.
One good thing about these tools is that it helps you when you aren't able to post at a particular time. Or when you have lots of other businesses to attend to.
Perhaps, you wouldn't want to lose your followers by being inconsistent with your content creation.
You have to post more than once, and this goes for all social media platforms you're actively involved in.
For instance, with our experience on Instagram posting an average of twice a day isn't such a bad idea, especially when you know the best time to post.
To become a successful social media influencer in Nigeria, find out what works and stick to it.
See Also: 15 Legit Passive Income Ideas in Nigeria to Make Extra 500K Monthly
5. Be Original
Despite your frequency of content creation and consistency, all of it doesn't really mean anything if you are not being authentic.
People will definitely love to think that you have some originality as an influencer. You have to convince them that you have it.
All you have to do is to create good content and allow your followers to enjoy them…yeah? That's your daily offer to them.
You're free to go ahead to create your own theme, fonts, and logo as well as use social media symbols to portray that feeling of authenticity.
Any possible way you think this can be done, you can try it out.
6. Be Highly Informed
As a social media influencer, you really need to be highly informed. You have to be up to speed with trends and events, information, and the ongoing happenings in your industry.
You should be the person your followers will fall back on for the latest happenings in your niche.
For instance, a fashion influencer is expected to keep his or her followers abreast of the trends in the industry at every given time.
See Also: 10 Sure Ways to Make Money on YouTube in Nigeria
7. Get a Website
You need a website where you can constantly follow up on your social media posts. Asides from this, it is the best way to inspire authenticity and trust as a social media influencer in Nigeria. 
You might also want to put up some vital information that your social media profile can't contain. If you have a website, all you need to do is to link it to your social media profile.
Also, if you have lots of followers on your social media platforms, you can drive traffic to your website. Then you can monetize this traffic through affiliate marketing, Google Adsense, and CPA marketing in Nigeria.
You should know how important hashtags are. Did you know that adding matching hashtags to your posts can increase your engagement rate and reach beyond your follower base?
Hashtag marketing is one of the most untapped social media features today. As an influencer, you can create a branded hashtag that can easily help you connect to your target audience.
If any hashtags would have effects on our posts, you should add them immediately and not after a few minutes.
Hashtags are still very much powerful. Don't ignore it!
See Also: How to Start a Profitable POS Business in Nigeria and Win
9. Give Attention to Comments and Follow other Influencers
This is an area most bloggers and influencers really don't understand.
Your comment section is undoubtedly the lifeblood of your social account. It can either make or break you as a social media influencer in Nigeria.
When your followers engage with your post, return the favour with a reply to their comments. Also give answers to questions they're asking.
We all know that it might not be so easy to reply to all the comments on your posts. This is why you should start replying to these comments a few minutes after the post was made.
By doing this, your followers will know that their presence is highly valued and that you also have a personal interest in them.
If you really want to be successful as a social media influencer in Nigeria, you need to follow your other influencers in the industry. Do not compete with them but instead, collaborate.
See Also: How to Start a Blog and Make Money Online in Nigeria
10. Do a Giveaway
If you have been following any successful social media influencer in Nigeria, one key attribute you will notice is a giveaway.
The more giveaway you do, the more people will want to follow you and stick with you.
As an upcoming social media influencer in Nigeria, make a giveaway part of your major marketing strategies. It is the fastest way to grow your follower base.
How to Become a Social Media Influencer FAQs
How do I Become a Teenage Influencer in Nigeria?
To become a teenage influencer in Nigeria, you have to understand your niche and target audience. Then build a relationship with them and establish authority and credibility.
Do I need Money to Become an Influencer?
No, you do not need any money. Creating a social media handle is completely free unless you have to run ads that'll definitely cost you money.

How Many Followers Do I Need to Become an Influencer?
There is really no specific number, but you can begin with 5,000 followers, as long as these followers are very active and also engaging. Don't be demotivated by the few followers you have. The top social media influencers in Nigeria you admire today started with 0 followers. Here is how to make money on Instagram with zero followers. 
Should I Buy Followers to Become an Influencer?
You shouldn't make the mistake of buying followers. No matter what, please don't fall for it. You can grow your account organically.
You need people who are interested in what you do and engage with your content on a daily.
Conclusion
These are tried and tested expert tips that you can use to become a social media influencer in Nigeria. Implement these steps and apply patience and you will definitely enjoy the results of your effort.
Remember that this is not magic but rather a process that requires time to make work. So, you can't expect to become a social media influencer overnight.
However, if you keep following these strategies, you can become a social media influencer and start making money online in Nigeria.